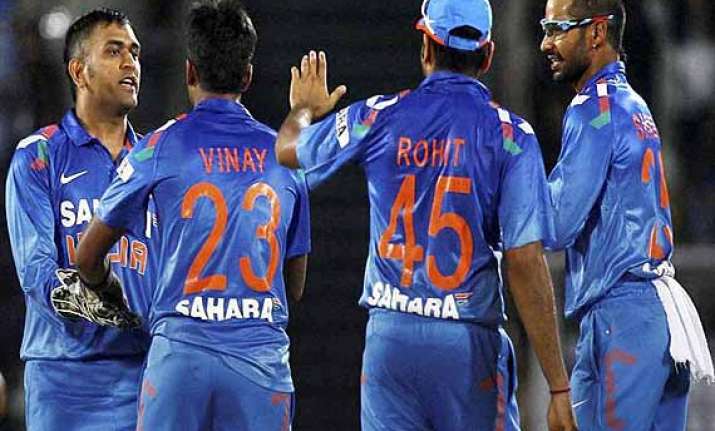 Bristol: Their morale battered by the Test series debacle, India would look to make a fresh beginning and salvage lost pride when they take on England in a five-match ODI cricket series starting here.
On one hand, the Indians will be distracted by the 1-3 series loss in the Test series prior and will want to do well in the ODIs, on the other, they will also need to balance their approach keeping next year's World Cup in mind.     
That tournament, to be hosted by Australia and New Zealand, is now just six months away. From here onwards, every ODI played by the Indian team will be a preparatory step towards defending their 2011 crown Down Under.     
And to do so, they will be evaluating players in the three ODI series between now and the World Cup here in England, at home against West Indies and then the tri-series on the Australian tour.     
Already, the Indian selectors have taken stock of the situation at hand and the 17-man squad is a reflection of their thoughts. Sanju Samson and Karn Sharma represent their line of thinking in that the squad will need an additional wicket-keeper as well as a probable third spin-bowling all-round option.     
But there is a question-mark over how many opportunities these two youngsters will get in the current five-match series. This is because the middle-order and
all-round/spin-option slots have enough contenders at the moment.     
Starting with the latter,
Ravindra Jadeja
and R Ashwin will fill up the two spin options in the playing eleven. Earlier this year in New Zealand, in the fourth ODI at Hamilton, Stuart Binny was introduced as an alternate and his exploits in Bangladesh showed that he will remain one in conditions that assist swing.     
However Indian skipper Mahendra Singh Dhoni is a little circumspect about using four medium pace options as it slows down the over-rate. It will be interesting to see if he will opt for two spinners straight-away, irrespective of conditions in Bristol, given that Binny didn't get to bowl in the warm-up game against Middlesex on Friday.     
On that day,
Bhuvneshwar Kumar
and Mohammad Shami bowled short spells and it was a clear sign that the team management wanted to preserve them before things get heated.