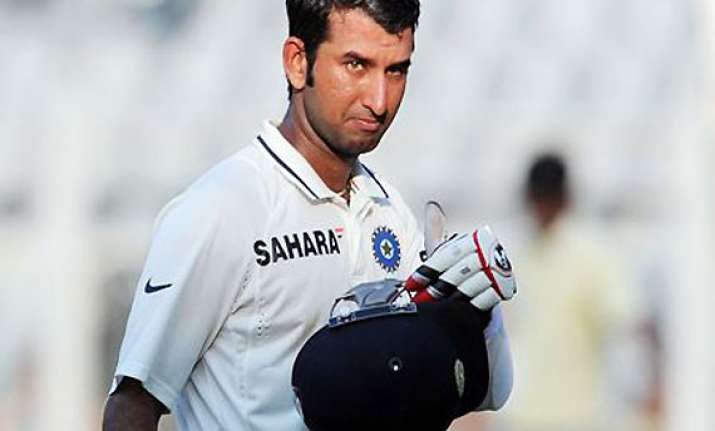 Chennai, Feb 23: Indian batsman Cheteshwar Pujara on Saturday said he got out at the "wrong time" after doing all the hard work on the second day of the first cricket Test against Australia here.
India finished the day at 182 for three in reply to Australia's first-innings total 380 all out, and Pujara, who was dismissed for 44, felt the hosts were in a comfortable position.
"I was set and things were going smoothly for us. But unfortunately, I got out at the wrong time. Still we are in a good position. I am happy about it and I have also contributed at the right time," Pujara said.
About his dismissal, Pujara said he was "surprised".
Pujara was joined by Sachin Tendulkar, who remained unbeaten on 71 at stumps, at a crucial juncture as India had lost their openers with just 11 runs on the board.
The two added 93 runs for third wicket to steer India to safety.
"Sachin, when he got to bat, he was on the mark facing the first ball itself and hit three boundaries in the first over itself. So, he was looking positive. I have not seen him in such a kind of positive mindset. It was really pleasure watching him," the 26-year-old right-hander told reporters.
Tendulkar showed glimpses of his vintage form with a fluent half-century as India recovered from the two early jolts to match evenly poised at the M.A. Chidambaram Stadium.
"It was very important for us to make a partnership and it was really crucial. During the partnership we were talking about how the ball was moving and at times reverse swinging. Such communication was really important when we were batting."
The odd bounce, according to Pujara, was not a big problem for the Indians.
"I do not think so. At times you get extra bounce and at times it kept low. But we are used to it and so it was not a big problem for us.
"As for my losing the wicket, it kept very low and I was late on the ball. I think I could not sight the ball after it pitched, I was a bit late," he said.
Coming back to Tendulkar's knock, Pujara said, "I think I have seen him bat in the nets and the way he was timing the ball was different. I have seen him even in the England series in the nets.
"Unfortunately, he did not get runs in the England series. The way he was batting at the nets there was nothing wrong. He was timing the ball well and even in the camp at Bangalore before we came here, his batting was a pleasure to watch.
Pujara, as expected, picked James Pattinson as the best bowler he has faced today.
"So far I think Pattinson was the best. They were getting reverse swing but we were prepared for it. We knew that their strength is fast bowling. They will be relying on fast bowlers.
"In Indian conditions there was not so much swing movements so what they were trying was to get the ball old as early as possible to get the reverse swing."
Asked if he was surprised by the bowling of Australian quickies, Pujara said, "As I said before I lost the ball half way and that was the reason I lost my wicket. Otherwise, on the Indian wickets, there was not much of pace for the bowlers because of the wicket condition."