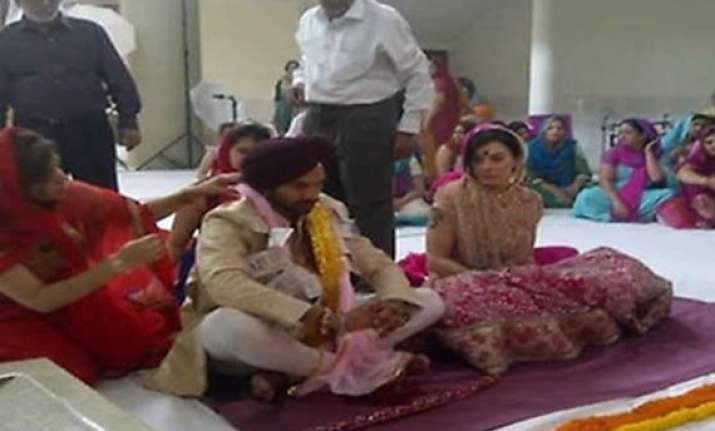 New Delhi: For moustache swirling cricketer Shikhar Dhawan it wasn't love at first sight but love on Facebook when Ayesha, now his wife, accepted his friend request.
Shikhar is grateful to his senior cricket colleague Harbhajan Singh who was friends on Facebook with both Ayesha Mukherjee and Shikhar Dhawan. Harbhajan introduced both of them.
So stunning was Ayesha that Shikhar had to take just one glance at  Ayesha's photo and he fell for her. He could not resist sending her a friend request.
So this was the beginning of their friendship that was destined to blossom into a love affair and eventually culminated into marriage.
Ayesha loves sports and is an amateur boxer.  Her mother is British  and her father is a Bengali, which is why she speaks fluent Bengali.

During their courtship, whenever possible, Ayesha would attend Shikhar Dhawan's Ranji trophy and IPL matches.
In fact, both Shikhar's and Ayesha's families enjoy cricket.

This is Ayesha's second marriage and she has two daughters from her first marriage. Also she is 12 years older.
No wonder Shikhar had a tough time convincing her parents as they were  concerned about the  age difference between the two  and also Ayesha Mukherjee's two children (Rhea, Aliyah).
Another interesting fact about the lovebirds is that Shikhar  and Ayesha got engaged way back in 2009, but Shikhar postponed the wedding by three years as he wanted to cement his  place in the Indian team before taking the plunge.
Shikhar finally took the plunge and married Ayesha Mukherjee on October 30, 2012.
Shikhar Dhawan's wife and 2 step-daughters have been lucky for him.

At the age of 27 he made his Indian cricket test debut in 2013. 
Shikhar  created the record of the fastest Test century by a player on debut (100 in 85 balls). By scoring 187, Shikhar broke Gundappa Viswanath's Indian test record for the highest score by a debutante.
What strengthened Shikhar Dhawan and Ayesha Mukherjee's relationship is that even though Ayesha is an Australian, Shikhar Dhavan believes she is more Indian than he is. Ayesha is a very religious person. Ayesha Mukerji is speaks Bengali fluently and she is a good cook.
Ayesha Mukherjee has become a sensation of sorts, courtesy her beauty and the control she exercises on the 27-year-old sportsperson.