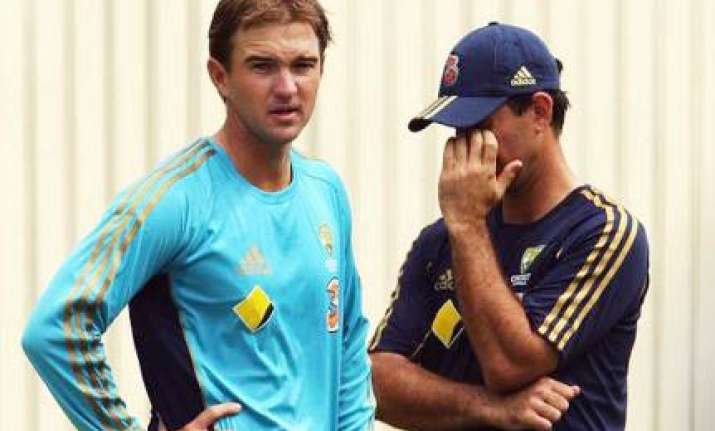 Melbourne: Australian Test captain Ricky Ponting on picked Nathan Hauritz as his first choice spinner for the Test and ODI cricket tour of India this October.
The 29-year-old off-spinner, who has taken 57 wickets at an average of 31.82 in 15 Tests, has only recently started practicing after recuperating from a foot injury he sustained during the one-day series in England in June.
Ponting said he has taken stock of Hauritz's fitness status and he is a certainty for the tour of India and the Ashes to be played after that.
"I've spoken a bit to Nathan over the last couple of weeks. He has started running again which is a good sign, without pain in his foot. He started bowling again last week," Ponting told reporters here.
"I'll be doing a lot of work with him over the next few weeks. I'll be facing a lot of him (in the nets), considering we've got (England's Graeme) Swann and Harbhajan (India's Harbhajan Singh) to confront over the next few months.
"Is he a lock-in? I think so. What he's done over the last 12 or 18 months as our number one spinner has been of the highest quality," he added.
Ponting said the injury setback to Hauritz will not impact his return to the squad despite facing competition from young spinner Steven Smith.
"With him back to full fitness I think he'll get himself back into the side again," he said.
The 21-year-old Smith took 3/82 and scored a 100-ball 77 in his Test debut against Pakistan in Headingly.
Ponting said the youngster has been a revelation but remains a "work in progress".
"Steven came along really well in the two Tests that he played in the UK. We saw towards the end of the Headingley Test his ability with the bat and also his willingness to be aggressive with the ball," Ponting said.
"That's not an easy thing to do for a young leg-spinner to maintain that aggression. He's a work in progress but the more games that he can play is obviously going to be better for him and he'll learn all the time.
"With (all-rounder) Shane Watson in our side it gives us the flexibility to be able to look at playing two spinners," he added.