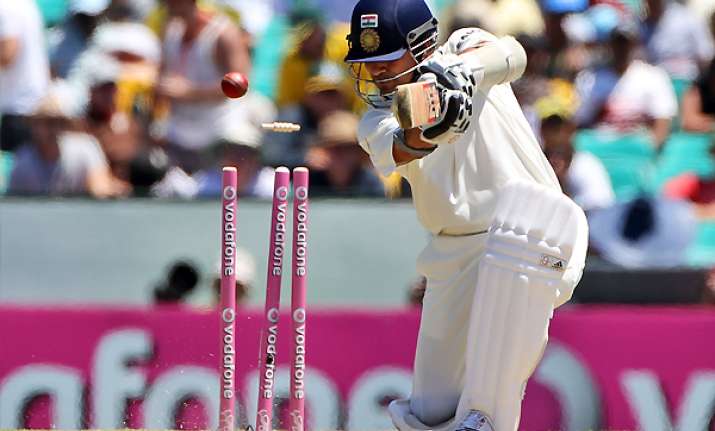 Perth, Jan 11: Domino theory seems to be the game plan for the Australian bowlers for ripping through Indian batting line up at Perth. The main focus in this plan remains Sachin Tendulkar who is still in quest of his elusive 100th international ton.

Fall of wickets at regular intervals in the first innings of the Sydney test and second innings of the Melbourne test allowed Australia to keep Tendulkar quiet and turn the screw on him, distracting and pressuring him to the point that he made a mistake.

On the contrary, in other two innings Indian batting collapsed drastically after Tendulkar's dismissal.

Indian batting was looking firm and determined in the second innings at the SCG before Michael Clarke's gave Australia a stunning breakthrough by dismissing Tendulkar on 80. India were 271-3 before Tendulkar was dismissed and lost 3 more wickets for only 15 runs after Tendulkar was back to the pavilion. Sudden collapse left India reeling at 286-7.

At the MCG test, India was well placed at 214-2 in its first innings when Peter Siddle dramatically bowled Tendulkar after which the tourists slumped to 282 all-out.

"Whether we get his wicket straight away or whether we're getting wickets at the other end, that's what building pressure on him, I think," Siddle said yesterday. "We've got to be happy with how we've been going about it, how we've been attacking them as a team. That's working."

Just the sight of Tendulkar on strike as he was bowling helped him lift to heights he otherwise could not reach, Siddle said.

"It just seems that the times I've bowled at Sachin maybe I have stepped up for that occasion," he said. "I have bowled at my best in this series against him. I'm lucky enough to have got him two times in Melbourne, but in Sydney a couple of other blokes got him.

"Good bowling is going to get anyone out and I think if you can consistently do it long enough then you can get anyone out.

"That's all we're doing, whether it's the top order or their tail. Just stick to the basics and stick to what we've played for."

With the Australians putting so much emphasis on bowling partnerships, with each responsible for not relaxing the stranglehold, it will be critically important for Ryan Harris to immediately find his groove in the third Test starting at the WACA Ground on Friday, when he replaces the injured James Pattinson.

Siddle, who has shouldered the extra responsibility of being the spearhead of Australia's attack, has no doubt that Harris, who grabbed nine England wickets on his previous Perth Test appearance a year ago, will slot in seamlessly.

"Rhino is pretty much an exact replacement," Siddle said. "He's a little bit smaller than Pattinson but a 145km/h outswinger isn't a bad guy to come in to replace him.

"He's definitely a player who can fill that role perfectly. He's strong, hard . . . he's definitely a good replacement for Patto."

If the Test were to be played on the wicket as it looked on Tuesday - as green as a seasick sailor - there is little doubt that Australia would choose a four-pronged pace attack and leave Nathan Lyon out for some net work in advance of the Adelaide Test, where his crafty off-spinners most definitely will be needed.

But with curator Cam Sutherland sure to give the pitch another haircut, Siddle remained unsure whether four pacemen was the way to go.