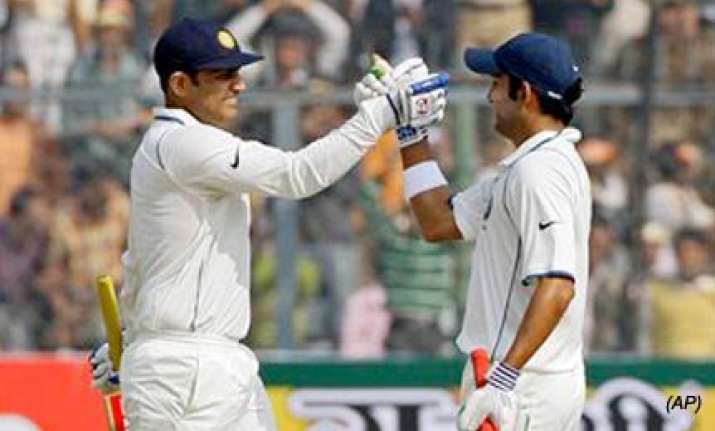 Gautam Gambhir (167) and Virender Sehwag (131) were the architects of India's unrelenting dominance as the hosts batted themselves into a position from where they can dictate terms in the second cricket Test againsr Sri Lanka in Kanpur on Tuesday .
The near-capacity Green Park witnessed a lop-sided opening day, completely dominated by the Indian batsmen and their blazing blades as the hosts cruised to a mammoth 417 for two and threatened to raise a run-mountain under which they can bury their opponents.
Arguably the most evolved batsman of recent times, Gambhir first starred in a blistering 233-run partnership with Sehwag in just 41.2 overs before forging another 137-run association with Rahul Dravid (85 not out). India's unyielding grip over all three sessions had the islanders totally at sea.
Right from Mahendra Singh Dhoni winning the toss, India hardly put a foot wrong on Tuesday . Sehwag and Gambhir milked 131 runs in the 26-over morning session without being separated. The Sri Lankans did manage to cut short Sehwag's explosive stay in the second session but they bled 176 runs in that 33-over segment as India consolidated their position.
India did not take the foot off the pedal, adding another 110 runs in the final session losing just one wicket to consolidate their position.
Dropped on zero, Sehwag earlier slammed an insouciant 122-ball 131, bejewelled with 18 delectable boundaries and two effortless sixes. In contrast, Gambhir's was a chanceless 215-ball knock, studded with 15 boundaries.
 
Dravid's unbeaten 85 came off 153 balls and had eight fours in it.
At stumps, Tendulkar (20) was giving company to Dravid who remains in sight of his 28th century.
This was the highest Indian score on any one day of a Test match, bettering the 386 runs they had scored on day three of the Chennai Test against South Africa last year. It was, however, way behind the 494 for six that Australia had registered against South Africa on the opening day of the 1910 Sydney Test.
 Dhoni did not fancy batting in the fourth innings, especially when world's highest wicket-taker Muttiah Muralitharan lurks in the rival camp. Besides, Dhoni predicted before the Test, batting would get easier if his batsmen can see through the early morning session when the ball tends to misbehave.
And his openers did just that.
appeals in the first hour itself. Even when he connected, it was not the usual musical note of his willow but a jarring thud that revealed his struggle to find the meat of the bat.

For Sri Lanka, things could have been different had Mahela Jayawardene, at first slip, been able to latch on to the edge that flew off Sehwag's blade after Chanaka Welegedara had sent down the fourth ball of the match. Jayawardene, however, can blame stumper Prasanna Jayawardene for making that unnecessary dive that blocked his view.
And the islanders were made to pay for the clanger till the 42nd over.
 Ill at ease against Welegedara, Sehwag found Angelo Mathews less hostile and two fours off the all-rounder's sixth over came as welcome relief. Sehwag did an encore of the treatment in Mathews' next over - a copybook straight drive followed by a carbon copy of the original.
Gambhir at the other end was his composed self, immaculate in defence and controlled in his aggression. His first two fours came behind the wicket before he cover drove Welegedara for a delectable four. And when Sri Lanka captain pressed Rangana Herath into attack, Gambhir ensured the left-arm spinner was withdrawn at the earliest.
Gambhir charged out to the first ball Herath sent down, driving it through extra cover and hit two more fours before Sangakkara took off Herath and tossed the ball to Ajantha Mendis instead.
By then, Sehwag had found his feet and Gambhir's insouciance had rubbed off on him and a Mendis full toss was summarily dispatched over deep mid-wicket ropes fort the first six. Mendis bled 42 runs in his first five-over spell as the mystery around his magic finger lay in tatters.
In the post-lunch session, Sehwag went berserk and the Lankans simply had no clue how to stem the boundary flow.
Sehwag raced to his 16th Test century in no time and the celebration came in the form of a hat-trick of fours off Muralitharan as the Delhi dasher's strike rate soared over the 100 mark. In the process, the Sehwag-Gambhir pair also bettered their previous highest partnership of 218 that came at the same venue against South Africa in 2004.
Finally, Sri Lanka heaved a sigh of relief in the 42nd over when Sehwag's uppish drive found Tillakaratne Dilshan at extra cover and Muralitharan snapped the blooming partnership that yielded 233 runs and the run rate was a brisk 5.63.
An undeterred Gambhir straight drove Herath for a scorching boundary to complete his eighth Test century and with Dravid joining him to consolidate India's position, it was a day largely spent on the leatherhunt for the Lankans.
Gambhir looked set for his second double century when an airbone Muralitharan caught his drive off his own bowling to send him back.
Dravid and Tendulkar, a whopping 51,000 international runs between them, were hardly troubled by the Lankan bowlers, who were sapped after a hard day's toil. PTI