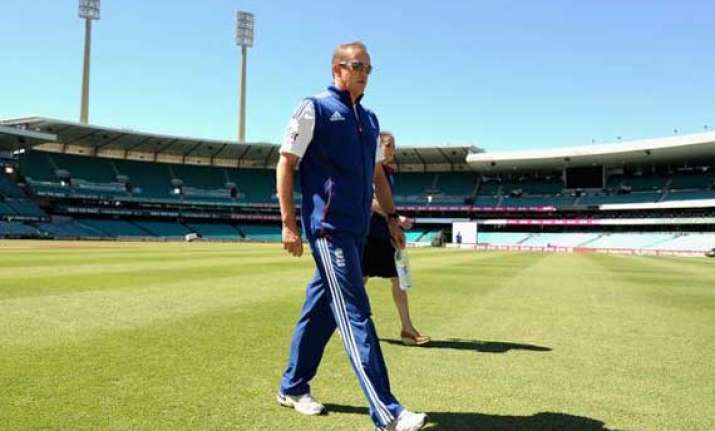 Andy Flower quit as head coach of England's test team on Friday in the wake of a humiliating Ashes whitewash by Australia, ending a five-year reign in which he oversaw the most successful period in the national side's recent history.
The Zimbabwean said in a statement released by the England and Wales Cricket Board that it was time for the team "to rebuild with a new set of values and goals" and "start with a clean slate."   
Flower took charge in 2009 and led England to three straight Ashes series wins against its fiercest rival, and also the World Twenty20 title in 2010. Under Flower, England has been top of the rankings in all three formats -- test, one-day and T20.   
However, his position came under huge scrutiny after England slipped to an abject 5-0 test series defeat Down Under over the last two months. In the immediate aftermath of the series, Flower spoke of it being the "end of an era" although he pledged his commitment to staying in charge.   
"Following the recent very disappointing Ashes defeat, it is clear to me that this is now time for England cricket, led by (captain) Alastair Cook, to rebuild with a new set of values and goals," Flower said in the ECB statement.   
"The opportunity to start with a clean slate and begin to instil methods to ensure England cricket is moving in the right direction will be an incredibly exciting challenge for someone but I do not feel like I am in a position to undertake that challenge."   
Flower will remain as a selector and is exploring other possible roles within the ECB.   
The 45-year-old Flower -- a quiet, unassuming character who led with an understated authority -- handed over responsibility of coaching England's ODI and T20 sides to Ashley Giles in December 2012, leaving him to focus entirely on test cricket.   
He said in the statement that his replacement "needs to be responsible across all formats in order to positively influence the rebuilding process," which potentially makes Giles a strong candidate to succeed Flower in the test set-up.   
"Having stepped aside from the limited-overs squads 14 months ago, that is not something I am able to do and I do not therefore feel that starting the process would be in the best interests of all involved at what is a pivotal time for England cricket," Flower said.   
Flower came to his decision after a meeting this week with England's new managing director, Paul Downton.   
"Andy has been the most successful coach in England's history and we at the ECB are very disappointed to see him leave the role as team director," said Downton, who added that the organization was at "advanced stages" of finding Flower a new role.   
Flower's departure probably strengthens Kevin Pietersen's position in the England test team, with the richly talented yet controversial batsman having reportedly been at odds with his coach in recent years.   
Flower played 63 tests and 213 ODIs for Zimbabwe as a wicketkeeper/batsman across an 11-year international career before becoming part of England's coaching team in 2007, initially as an assistant to Peter Moores, whom he succeeded.