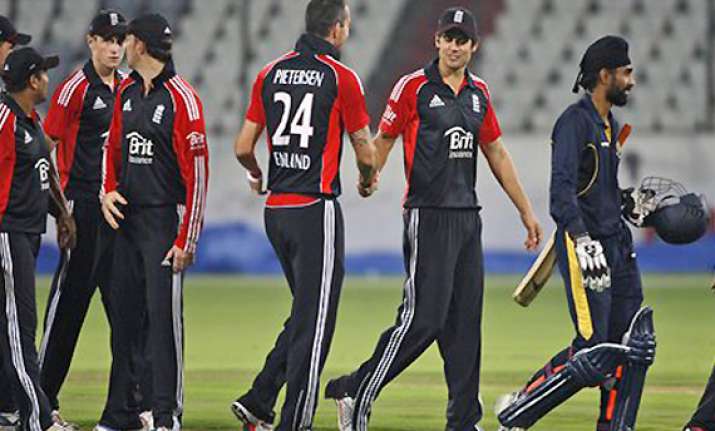 London, Oct 10: England will be using their final warm-up game against Hyderbad XI Tuesday to get a grip of the new bowling regulation ahead of the five-match One-day International (ODI) series against India Oct 14.

The new rule, which came into force this month, makes the use of two balls mandatory in a 50-over innings -- one from each end for 25 overs apiece.

The Englishmen admitted being caught off-guard by the rule during their 56-run win over a Hyderabad Cricket Association XI in the first practice match Saturday, where they discovered that one of the balls was swinging more than the other. Hitherto the ball was changed only after 34 overs.

"When I was batting I forgot about the two new balls," England batsman Ravi Bopara, who top-scored in Saturday's low-key win with 73, was quoted as saying in Daily Mail.

"But when you're bowling it certainly makes a difference. We had one ball that was swinging and the other wasn't.

"I came back from the other end and tried to bowl exactly the same as I bowled with the ball that had been swinging and keeping low. But it seemed like a totally different game," he said.

England play the first match of the five-match series against India at Hyderabad's Rajiv Gandhi Stadium Friday.

England will assess Craig Kieswetter's left forearm which he injured during Somerset'sdefeat by Mumbai Indians in the Champions League semi-final Saturday.

Kieswetter joined up with the England squadSunday, and - if passed fit - will keep wickets Tuesday against Hyderabad after Jonathan Bairstow took the gloves two days ago.