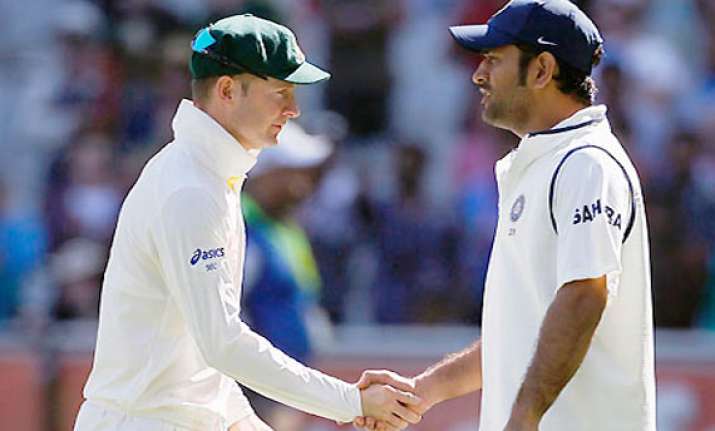 Chennai, Feb 26: Australian captain Michael Clarke today conceded that it was Mahendra Singh Dhoni's double century that turned out to be a game-changer as they were completely outplayed by India in the first cricket Test here today.
"They outplayed us. Mahendra Singh Dhoni certainly led the charge and I thought
Virat Kohli
was outstanding as well with his hundred. But it certainly was Dhoni, who changed the game," a dejected Australian captain told mediapersons at the post-match conference.
Clarke admitted that Dhoni's innings had the most impact on the match, but did not forget to praise off-spinner Ravichandran Ashwin, who took 12 Aussie wickets to pave the way for India's victory.
"It (Dhoni's innings) certainly had an impact on the game. Dhoni contributed a lot to India's success in this Test match. But like I said, Kohli made a fantastic hundred. Ashwin got seven wickets in the first innings and five in the second.  Those were three very good performances. We were completely outplayed," Clarke added.
Clarke's assessment about his team's defeat was that they did not attack enough in the weak areas of the Indians.
"I think there are areas in both teams you need to focus on. There are weak areas in the Indian team we did not attack enough. If we had got 150 or 200 on the board (for them to chase), we might have been able to expose or at least see how they played on a deteriorating wicket. A lot of credit has to go to India."
He refused to commit whether Australia would go into the second Test with a second specialist spinner.
"We've got the same options we had before this Test. We need to assess conditions once we get to Hyderabad. Australian spin took three wickets in first innings while fast bowlers took a lot more," said Clarke.
"That does not mean to say we got it right by playing three fast bowlers and a medium-pace all-rounder. We need to look at conditions again and work out what we think is the best XI."