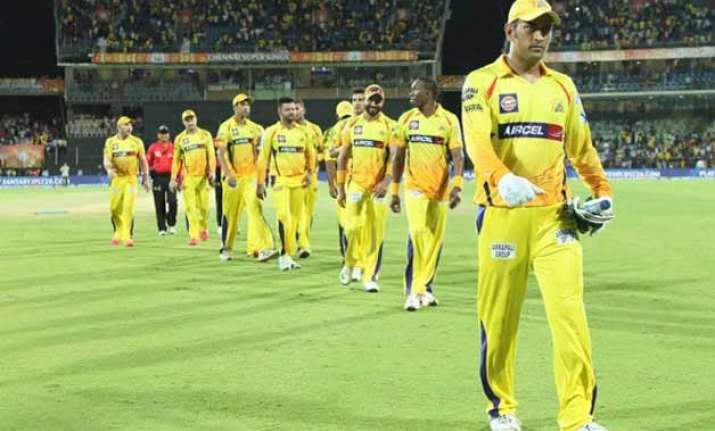 Chennai:  Chennai Super Kings captain Mahendra Singh Dhoni today lauded his bowlers and fielders for their "fantastic" victory over defending champions Kolkata Knight Riders in their IPL match here on Tuesday.
CSK pulled off a sensational last-ball two-run win over KKR and Dhoni described it as fantastic.
"It is a fantastic victory. This was the wicket where you don't know what is a good score. It's where if you bat well you can score 160 and if you bowl well you can defend 125. That's what I told the team. The game changes after the sixth over," Dhoni said after the match.
"Robin gave them a good start, but we came back with some good fielding and some good bowling. Raina has done well with the ball for us sometimes. He hits the seam and his trajectory is low and he can get wickets if batsmen makes mistakes.
"I wanted to save one over of Jadeja for the end, if the fast bowlers didn't bowl well. His three overs were important," he added.
Talking about his team's fielding, Dhoni said: "We did drop two catches, but the fielding was outstanding. Russell's run out was important for us. Brendon McCullum was lightning on the field. And in the middle overs, we did put pressure on them so they couldn't rotate freely."
Dhoni said he expects his team to put their best effort and not think about the result as wining and losing is a part of the game.
"We want to take one game at a time. What's important is to keep going well, of course there will be some games were you will lose, but what's important is to keep performing at your best," he said.
Kolkata skipper Gautam Gambhir lauded his bowlers for restricting CSK to 134 but said his batsmen messed it up in the middle overs after getting a good start.
"Containing Chennai to 134 was tremendous. Should have chased it down, especially with the start we got. But the batsmen got stuck," said Gambhir.