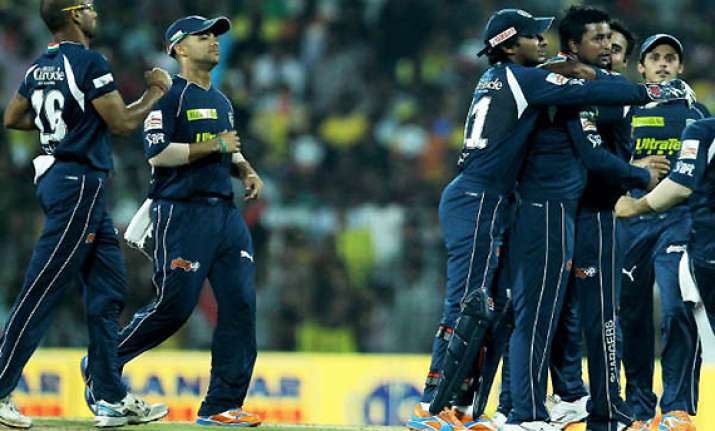 Hyderabad, Mar 5: Deccan Chargers today signed five players including Bengal's middle-order batsman Abhishek Jhunjhunwala, Hyderabad all-rounder Syed Ahmed Quadri and three uncapped players for the fifth edition of Indian Premier League (IPL).

The three uncapped players are left-arm fast bowler Atchuta Rao, right-arm pace bowler Veer Pratap Singh and left-arm spinner Sneha Kishore, the Deccan Chargers said in a release here today.

Abhishek Jhunjhunwala and Veer Pratap Singh represent Bengal in the first-class arena.

Jhunjhunwala is a regular one-down batsman with prior IPL experience, while Veer Pratap Singh is a 20-year-old, right-arm pace bowler.

Veer Pratap Singh, who debuted in a first-class match against Delhi, has been selected under the supervision of N.P Singh, former Hyderabad medium-pacer and Kanwaljeet Singh, assistant-coach for the Deccan Chargers.

Hyderabad's Syed Ahmed Quadri and left-arm Andhra pace-bowler Atchuta Rao come into the squad with an impressive Ranji season, the release said.

Sneha Kishore, an under-19 and Ranji one-day player from Andhra, has been hand-picked by the veteran former left-arm spinner and national-selector Venkatapathi Raju after screening six left-arm spinners from all across the country, it said.

"Our focus is primarily to discover and groom young talent from the domestic circuit. These players will provide more depth and variety to the Deccan Chargers squad. We believe that their induction in the squad will add immense value to the team," Venkat Reddy, COO, Deccan Chargers said.

Deccan Chargers suffered a massive defeat in the inaugural edition of the IPL, but went on to win the second season of IPL while it made to the semi-finals in the IPL-2010.