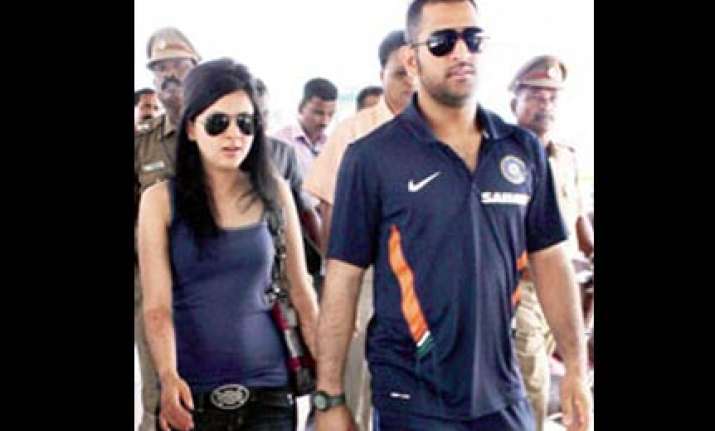 July was a month to remember for Indian captain Mahendra Singh Dhoni. He lost his bachelorhood, ensured an earning of Rs 2 billion over the next two years, his team lost the first Test against hosts Sri Lanka at Galle and then carved out a fighting draw in the second Test on Friday.
The most significant of these changes certainly was his marriage to Sakshi Singh Rawat in a very private ceremony at Dehradun, Uttrakhand.
The hush-hush manner in which the whole ceremony was held coupled with the fact and none of the senior members of the team was invited had created a lot of drama.
Logically the celebrity couple should have gone for their honeymoon. But a slightly bigger problem is that unlike the aam junta and the Bollywood junta, the Indian skipper cannot take a break from his job.
Just a week later, Dhoni was in Sri Lanka, leading India in the three-Test series against the hosts followed by the tri-series also involving New Zealand. But Dhoni did choose to combine work with pleasure and is being accompanied by wife Sakshi.
Though Sakshi had been travelling with the team, constant cricket has meant that the couple had not been able to spent as much time as they would have wished, except for some dinners and shopping.
But on Friday, when Dhoni came back at the hotel, Taj Samudra, he was in for a little treat.
Sakshi, who has done her hotel management from Aurangabad and internship from a five star hotel in Kolkata, had decided to cook for her husband.
According to the hotel staff, the 21-year-old put in a request that she wanted to cook for her husband.
One of the hotel's kitchen's was used as the rasoi. Helped by a chef, Sakshi cooked, dal, chicken fry and fish fingers. The couple had the dinner in their room.