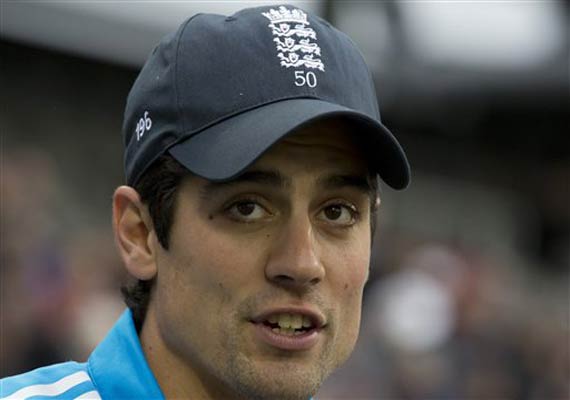 BIRMINGHAM, England: England captain Alastair Cook says the bitter taste of Jos Buttler's contentious run out in the one-day international series finale against Sri Lanka will linger into their test series starting next week.
At Edgbaston on Tuesday, offspinner Sachithra Senanayake ran out Buttler, who was well out of his crease at the non-striker's end - a perfectly legal dismissal but considered not quite cricket. According to the espncricinfo website, it was the first instance of "Mankading" in international cricket in 22 years.   
Cook said Sri Lanka "crossed a line."   
But Sri Lanka captain
Angelo Mathews
, who enforced the dismissal when asked by umpire Michael Gough, and senior batsman Mahela Jayawardene said they had no regrets, adding Buttler was warned twice he was stealing yards unfairly.   
Asked if England would carry their displeasure into the two-test series, Cook said, "Probably, yes."   
"It will spice it up a bit, nothing wrong with that."   
But Cook suggested he wouldn't let the dispute descend into the open aggression of
the Ashes
series last year.   
"It's important you let your cricket do the talking as well, and you back up words," he said.   
"If he (Mathews) says he's going to do it again, it's up to him. As captain of your country, there are certain ways you want your team to operate."   
Mathews and Jaywardene were unrepentant after winning the match by six wickets, and the series 3-2. Mathews said Buttler, out for 21 in the 44th over, was also straying from his crease when he made his century in the fourth one-dayer at Lord's.   
"I don't know what else you can do to stop him doing that, so we had to go for it," Mathews said.   
Jayawardene added: "We gave him a fair chance twice - before the first warning as well, we told the umpires that they're taking too much of a lead. We had to do that, because they kept doing it. 
"At Lord's, they took 22 twos in the last two overs. Ravi (Bopara) and he ran riot, and most of the time they were taking starts - which was not legal by the written law.   
"We warned the umpires. They didn't listen to us, so we had to take the right steps. The umpires said they would handle it ... but obviously didn't.   
"We have always tried to play in the right spirit. But if other teams are not playing with the right spirit, by the law, we had to do this unfortunately."   
Jaywardene said he hoped there would be no more repercussions.   
"We'll play with good spirit (in the tests)," he said. "We've done that in the past ... and we look forward to a very good test series. It will be tough, but we will pull through."   
Senanayake has not been picked for the tests, and will undergo biomechanical testing on a suspect illegal action this month. Buttler will find out if he's in the test squad when England names it on Thursday.   
The law about running out the non-striker was named after India's Vinoo Mankad, who ran out Australia's Bill Brown in a 1947 test. The previous instance before Tuesday was India's Kapil Dev dismissing South Africa's Peter Kirsten during an ODI in 1992.