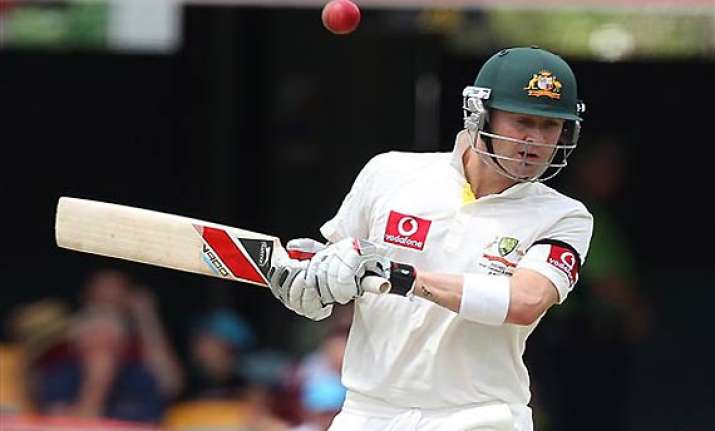 Hobart, Dec 12: Australia captain Michael Clarke rued his side's inconsistency after they blew an advantageous position to lose a home Test to New Zealand for the first time in more than a quarter of a century on Monday.

The Australians started the fourth day of the second Test on 72 without loss chasing 241 for victory but collapsed to 233 all out to lose by seven runs.

As in last month's encounter with South Africa, where they were bowled out for 47 in the first Test, Clarke's team ended up drawing the series 1-1.

"It probably sums up where we are as a team, we've seen some patches of individual excellence, and even some as a team," he told reporters at the Bellrive Oval.

"We're playing very well in patches but you are seeing the other side as well, where we're letting ourselves down with really poor performances."

Despite having lost a Test in Hobart for the first time, there were highlights for the Australians as they look forward to a four-Test home series against India starting on Dec. 26.

One was the performance of opener David Warner, who batted through the second innings for an unbeaten 123 and nearly steered the Australians to victory before he ran out of partners.

The 25-year-old is a fine limited overs batsman who many had doubted could step up to the Test arena but Clarke suggested his performance in his second Test had cemented his place in the side for the India series.

"He's an amazing talent and has been for a long time, he's been keen to get an opportunity to play Test cricket for Australia," said Clarke.

"He's made the most of his chances in Twenty20 and one-day cricket and showed again today that he's here to stay in Test cricket as well."

Warner, though disappointed by the defeat, also felt he had proved a point.

"I've always said I wanted to prove to people I could play longer form and now today it's overwhelming to show people what I've done," he said.

"At the end of the day I've just proved to people I can play the longer form."

Another positive was the bowling of paceman James Pattinson, who took five-wicket hauls in both Tests against New Zealand and was named player of the series.

The same could not be said of opener Phil Hughes, who was caught by Martin Guptill in the slips off the bowling of Chris Martin in all four innings of the series for a total of just 41 runs.

Clarke has been a staunch supporter of his New South Wales team mate but suggested time had finally run out for the 24-year-old.

"He's obviously really disappointed, like all the batters are, for the way we played today but Hughsey's obviously the most disappointed, he's been getting out the same way," he said.

"I know he's been working hard in the nets trying to improve that deficiency in his technique ... but he needs to find some runs, if he's not making them for Australia, he's going to have to go back and score some for New South Wales."

Clarke conceded that would be difficult before the Boxing Day Test against India in Melbourne with the domestic Twenty20 Big Bash league about to commence.

However, he also fired a warning to the other underperforming batsmen such as Usman Khawaja and former captain Ricky Ponting.

"(Hughes) needs some runs, no doubt, but he's not the only one, let me make that clear."