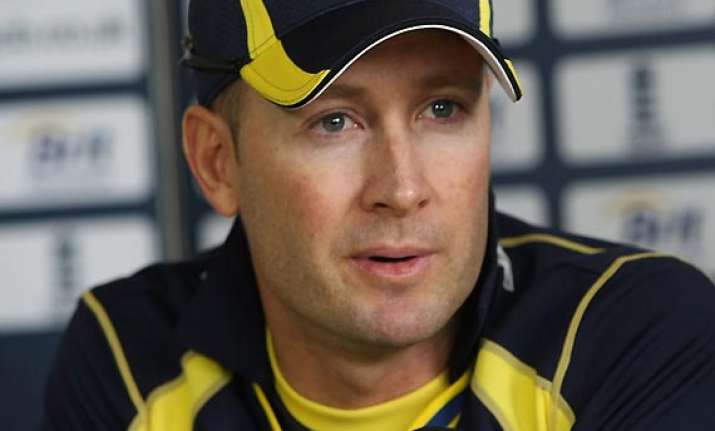 London: Michael Clarke has defended selectors as Australia prepare to ring the changes again in an effort to save face in the Ashes, declaring: "This is not a charity tour".
The fifth and final Test of the Ashes series is starting from and some changes are expected in the palying XI. Usman Khawaja is tipped to drop out at No. 3 while Mitchell Starc almost certain to return once again to the fast bowling attack.
Interestingly Starc went on record saying he is  upset and unhappy with the selectors for  his repeated shuffling in and out of the side over the past five months. He had further said that this king of shuffling affects his rhythm.
Earlier also eyebrows were raised in the series when the country's No. 1 spinner Nathan Lyon was ignored for  Ashton Agar, who was not even in the original touring party, as well as constant changes in an underperforming batting order.
According to reports Khawaja, who has played three test, averaged only 19 and  could be the latest victim of constant changes in the batting order. The choice could be between Phil Hughes and  Matthew Wade.
Former captains Steve Waugh and Ricky Ponting are in favour of Australia's young batsmen but Clarke says if young and emerging batsmen fail to deliver then selectors have no choice but to wield the axe.
"This is not a charity tour," Clarke said. "It's not about giving blokes a go and hoping for the best. All the selectors can do is pick what they feel is the best XI but it's up to us as players to do our job and unfortunately our batting has let us down throughout the series so far.
"Unfortunately that's what happens when you don't make as many runs as you like. And again I know there's been a lot of talk back home about consistency of selection but the selectors are trying to do everything in their power to help us win and if guys aren't performing, unfortunately you can't select them. Or if you're not performing, you get dropped.
"Every single one of us, every one of the batters, would like a big score. I think the last double-hundred away from Australia was scored by Jason Gillespie in Bangladesh in 2006. It's a long time ago. I'm not big on stats, but I know that stat."
While the rest of the squad trained as usual on Monday, a group of five players plus management were huddled together for more than 30 minutes, exchanging home truths about what needed to be done to avoid a 4-0 series defeat being completed by England.