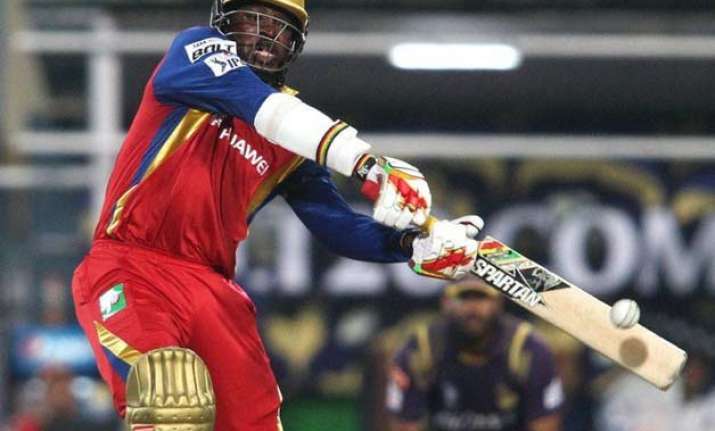 Kolkata: After playing another match-winning knock in the Indian Premier League, a visibly satisfied Chris Gayle "dedicated" his 56-ball-96 to his mother, who is celebrating her birthday today.
"I want to say Happy birthday to mum, hope she's watching and that was for you," a beaming Gayle said at the post-match presentation ceremony.
"It was good, both teams played well. Can't complain, to be honest. I thought I ran well between the wickets. We kept losing wickets, then AB started well and we lost him. I think the turning point was batting with (Harshal) Patel, apart from Morkel dropping me," Gayle said.
He was happy that Harshal was able to hit a six off Narine.
"I told Patel to try and hit a six off Narine and he said he'd try. He missed and I told him,"you need to try again," and then he hit one. I told him don't panic and take us home," the big opener was all praise for his younger colleague.
RCB skipper Virat Kohli termed it as one of their better wins if not the best as they missed out on international bowlers like Mitchell Starc and Adam Milne.
"It's one of our better wins, I won't say the best. With two fast bowlers winnings the game for you, I was also delighted to see Gayle bat, the way he always bats in T20s. He's getting back into fitness, there have been questions about that.
"With Starc and Milne not available, it was important from youngsters' perspective to win this, it will give them great confidence. We gave away 15 runs too many, could have restricted them to 160."
KKR skipper Gautam Gambhir rued the missed catch of Gayle as he was dropped by Morne Morkel on 63.
"Gayle is going to hurt you. There was no shortage of effort from us and if we keep dropping him it's going to hurt you. Our bowlers tried their best. It doesn't matter how much I score, what matters is how much we have in the kitty and points on the table.