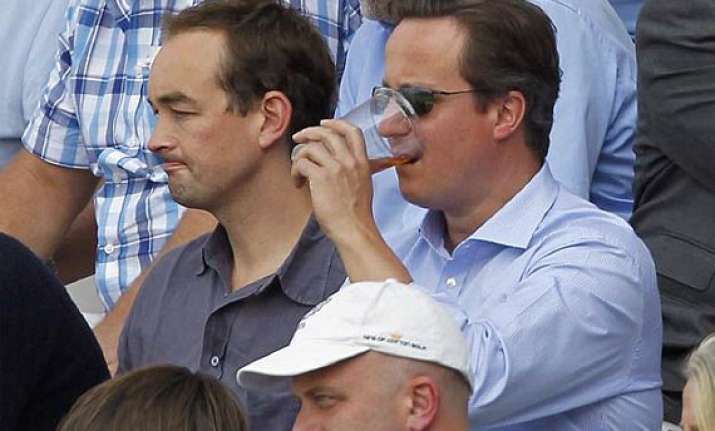 London, Aug 20: The Daily Mail on Saturday published pictures of British Prime Minister David Cameron sipping beer at The Oval and watching  Team England batsmen Ian bell and Kevin Pietersen  giving a good hiding to Indian bowlers.

Cameron on Saturday headed off  for a 'stay-cation' with his wife Samantha in Cornwall,  his fifth holiday of the year.

Cameron had cut short his summer holiday in Italy  to come home and handle the riots in London and other cities.
 
In an interview with Radio 4's Test Match Special,  Cameron  defended his right to a normal life and said leaders need to get away.

He said: 'The pressures on your diary and time are massive, so you have to try to make sure your diary is arranged in a way that lets you have some normal life.

'Otherwise you get completely fried, you make terrible decisions. I hope no one begrudges me a few hours at the cricket, particularly when England are playing so well.'

Cameron told  BBC that US President Barack Obama had been less than impressed when he tried to tell him about the England team's exploits.

'I was on the phone to Obama the other day. I said: "But at least England is number one at cricket" and he said "But you invented the game. That's like saying America's number one at baseball",'  Cameron said.

Although he is a long-standing England follower, Cameron said his "real game" was tennis - admitting that he was a "ferociously competitive" player, particularly when it came to games against Nick Clegg.

'The Deputy Prime Minister and I play the odd game and he's quite competitive too - the line calls probably require a bit of extra scrutiny,' he said.

Cameron revealed that he relaxed on his recent holiday in Italy playing tennis. He said: 'I played a lot of doubles on holiday. It was very competitive but there were no broken rackets, no racket abuse, no ball abuse, none of that.'
 
The Camerons shared a £10,000-a-week villa in Italy with fellow Old Etonian Sebastian James, a fellow member of the controversial Bullingdon dining club.