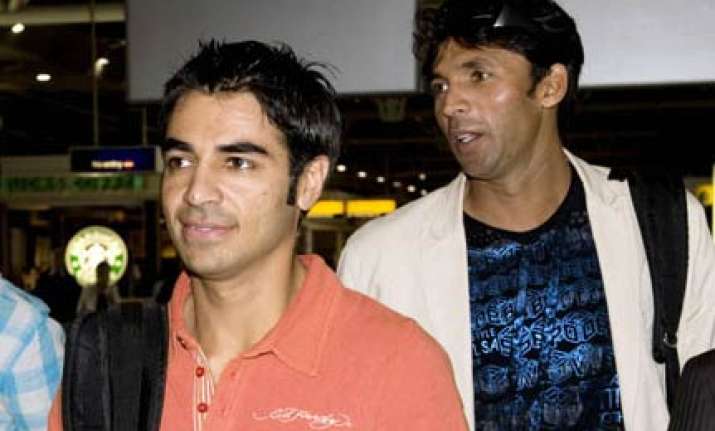 Lahore: They might be suspended for alleged spot-fixing but that has not stopped former Test captain Salman Butt and pacer Muhammad Asif from asking the Pakistan Cricket Board to release their outstanding match fees and bonuses since the Twenty20 World Cup earlier this year.
Butt and Asif have written to the Pakistan Cricket Board to release the money.
Butt, who along with pacers Asif and Muhammad Amir were suspended on suspicion of spot fixing. confirmed he had written to the PCB for release of an amount of approximately Rs 8.7 million (USD 101,000).
"I am facing a lot of difficulties now because of not having received any of my outstanding amount from the board, this amount goes back to the Twenty20 World Cup and includes match fees, win bonuses and shares from logo sponsorships," Butt said.
Zakir Khan, the director of PCB's international cricket operations, confirmed receiving emails for release of funds.
"But there is no way we can release the funds since they are under suspicion and are being investigated by the ICC anti-corruption unit," Khan said.
However, Butt pointed out that even if the board couldn't release money due to the suspension they should at least release the money due to the players before the suspension was imposed.
"They should at least give us the money for the Twenty20 World Cup and Asia Cup," he said.
Butt pointed out that having received no support or money from the board, he was facing problems dealing with the legal fees and other costs of fighting the suspension of the ICC.
"How do they expect us to manage if they don't release us our hard earned money.
"What happens then how do they compensate us for the time we have lost as cricketers due to this suspension period. How do they compensate us for this delay in releasing us our funds."
Butt said he was unable to understand the method of dealing with allegations of spot-fixing and corruption.
"To me, it makes no sense that we have been suspended punished without any crime being proven against us," he added.