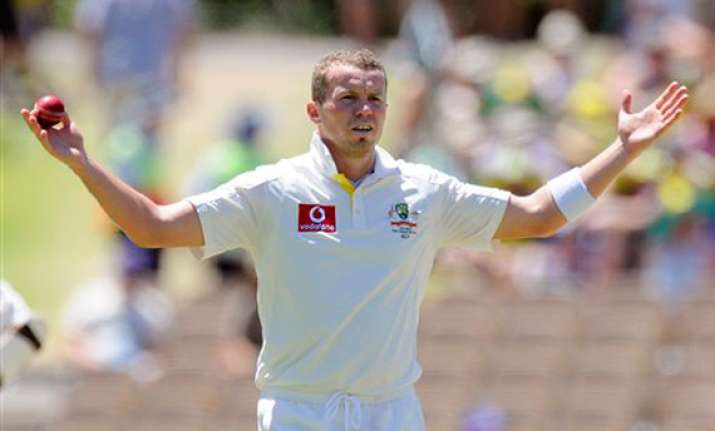 Adelaide, Jan 28: Australian bowlers hunted in a pack all througout the Test series to demolish the famed Indian batting line up and pace spearhead Peter Siddle said the home team reaped rich dividends by sticking to its plan of "bowling in partnerships".

Siddle, who was persistently hostile and aggressive throughout the series, attributed the Australian bowling unit's success to combined efforts.

"There is always a lot of emphasis on batting partnerships and our big emphasis coming into this summer was bowling partnerships," said the 27-year-old Victorian, who returned with match figures of six for 96 on a placid Adelaide track to earn the man-of-the-match award in the fourth cricket Test against India.

"We went about that spot on. No matter what attack we had, we stuck to our guns, we did the job. That was our plan, and we didn't steer away from that.

"Every morning we knew we had to bowl in partnerships and be consistent and be patient. And I think it showed in the performances," he said.

"At times the batters have set us up as well and we just knew we had to go out there and be patient. I think that just summed up the summer and what we wanted to achieve," Siddle added.

Australia today crushed India by 298 runs in the fourth and final Test to complete a 4-0 series whitewash.

Even though Siddle was full of praise for Australia's bowling unit, he felt there was still some room for improvement.

"We still have room for improvement. We are going in the right direcdtion. The good thing about the whole summer was the number of guys who played from Starcy (Mitchell Starc) and Jimmy Patto (Pattinson).