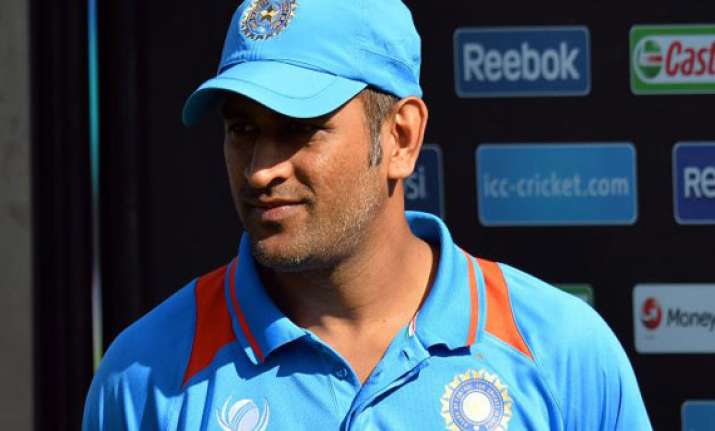 Pune: The only consolation skipper Dhoni can have from the lone T20 is that it was not only his bowlers but Australians too were at receiving end and were hit all over the park.
In a pre-match press conference ahead of first ODI here  Mahendra Singh Dhoni today said he expects his bowlers to adapt quickly and deliver in the upcoming ODI series against Australia.
"In the last T20 game a fair amount of runs, 200 runs each, were scored Overall the conditions were tough for the bowlers on both sides. But I am sure bowlers would adapt to the conditions as the series progresses and you can expect better performances out of both the teams (bowlers) who were expensive," Dhoni said.
Dhoni defended the bowlers of both the teams in the Twenty20 match in Rajkot, which India won, by pointing out how the dew factor affected their performance.
"One also has to take into consideration the dew factor. Fast bowlers were unable to bowl yorkers while spinners found it difficult to extract turn and bounce," said the India stumper.     
According to Dhoni, the new ODI rules which stipulate the presence of one extra fielder inside the field restricting circle as compared to the previous one, has made things very difficult for the bowlers to restrict the opposing batsmen in the last 10 overs.     
"If you see the ODIs, now we will have one more fielder inside (the 30-yard field restricting circle). I don't know where to bring in that one fielder inside in the last ten overs when the batsmen are intent going for the bowlers. That's one area where we have to work on. We have to see how to use that channel to put pressure on the opposition," he said.     
"Hopefully, we can see how we can use different bowlers to the best of our ability to restrict the opposition and not give away those extra 20 runs," he said.     
The new ODI rules came into effect from October 1. Dhoni said among the two positives of the visiting team's inexperienced side, was that they bat deep and have a fair number of bits and pieces players.     
"Australia have good batting depth and can bat up to number nine. That's their strength and that is why in the Twenty20 game, they were not too concerned about losing wickets and adopted an aggressive approach. They wanted to increase the pace. That's one of the reasons why our bowlers proved a bit expensive."