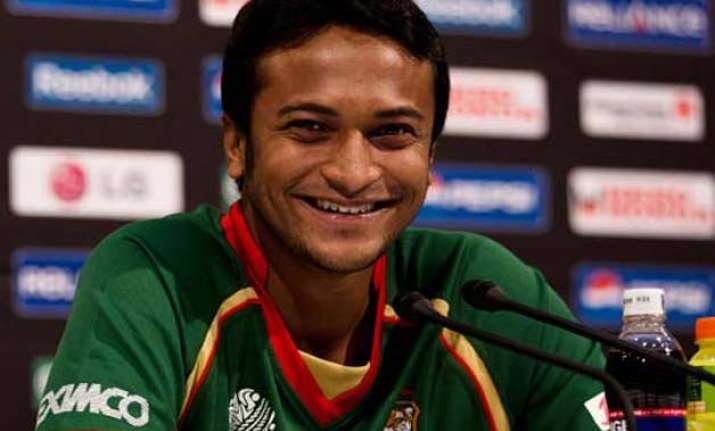 Melbourne: Acknowledging that the World Cup quarterfinal against defending champions India is perhaps the "biggest match" for the Bangladeshi players, all-rounder Shakib al Hasan on Tuesday said it is important for his team to look at it as "just another game" to do well.
"Maybe you can say that this is the biggest match of our careers because this is the first time we are playing in a World Cup quarterfinal. At the same time, we need to understand that it's just another game of cricket," Shakib told reporters here.
The MCG is expected to be packed to capacity and the majority will be Indian fans but Shakib is not perturbed by the noise that can be generated by 75,000 odd fans of the blue brigade.
"I have a bit of an idea about crowd pressure having played for Kolkata Knight Riders in the IPL. Even a packed Eden Gardens will have around 70,000 people. I know what that can be like. But yes, how the experience at MCG will be I won't be knowing unless I go out there in the middle," said the world's No.1 all-rounder in ICC rankings.
Shakib admitted that playing for KKR in the IPL has helped him as a cricketer and it will enable him to plan against the likes of Mahendra Singh Dhoni, Virat Kohli or Suresh Raina.
"Obviously, having played in the IPL will help me plan well against these players. Also I can pass on information to my teammates which will be beneficial. Actually, all the top six of Indian line-up are world class players and potential game-changers. We have to ensure that they can't build big partnerships and also more important ones among the six get out early," the 27-year-old lad from Jessore district in Bangladesh said.
The all-rounder said that he had indeed watched India's run-chase against Zimbabwe and felt that it was Dhoni's composure that won them the match.
"Dhoni is someone who doesn't panic that much. That was the calmness they needed and was key to how they chased that total down," he said in praise for the rival captain.
When asked about Virender Sehwag's comments before last World Cup about Bangladesh being an "ordinary side", he chose to play down the issue.
"I don't think in a World Cup any team takes any other team lightly. It's a quarterfinal. It's a one-off game. I guess no one will take anyone lightly. We're doing well. Our confidence is pretty high.