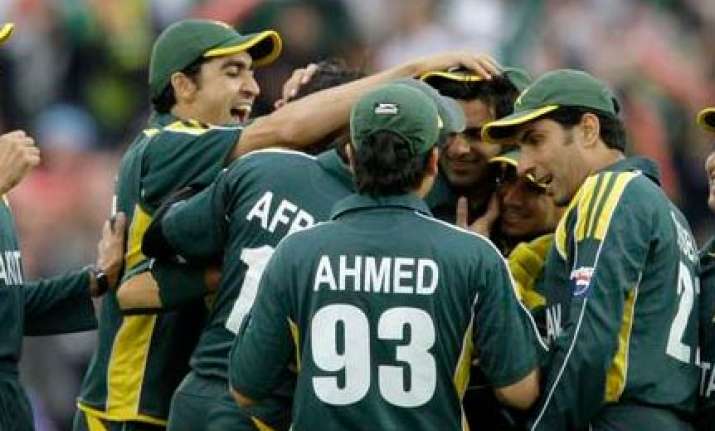 Hamilton, Feb 3: Pakistan won their first one-day series since November 2008 when they beat New Zealand by 41 runs in the fifth game of their six-match series at Seddon Park in Hamilton on Thursday.
The victory, courtesy  Ahmed Shehzad's 115 and a polished bowling performance gave Pakistan an unassailable 3-1 lead in the series, with only the final match to be played at Eden Park in Auckland on Saturday.
Pakistan made a below-par 268 for nine, but New Zealand wasted a golden opportunity to level the series with only
Martin Guptill
(65) and stand-in captain
Ross Taylor
(69) posting any scores of substance in their 227 all out in 46.5 overs.
The hosts had looked well set to push for victory when Taylor was batting with James Franklin in the 42nd over, but when Taylor, who had survived a confident leg before appeal by Shahid Afridi, was given out in the same over their run chase disappeared.
New Zealand have now lost 14 of their last 15 completed one-day internationals.
Pakistan's innings had been anchored by Shehzad's first one-day international century, which he brought up with a push to square leg after he wandered across his stumps to well outside off to give himself some room.
His century came off 101 balls, with 11 fours and two sixes, and the 19-year-old looked to increase the scoring rate even further once he reached the milestone but was caught in the deep by Franklin off Scott Styris in the 38th over.
The visitors had looked well set to push on to 300-plus on a good pitch with short boundaries and while several batsmen got starts, New Zealand's bowlers varied their pace and length to restrict the scoring in the final few overs.
Completed scoreboard in the fifth one-day international between New Zealand and Pakistan at Seddon Park in Hamilton Thursday.
Pakistan
Mohammad Hafeez c N. McCullum b Mills 14
Ahmed Shehzad c Franklin b Styris 115
Kamran Akmal run out (Mills) 17
Younis Khan c Styris b N. McCullum 21
Misbah-ul-Haq c Oram b Styris 25
Umar Akmal run out (B.McCullum) 32
Shahid Afridi c Guptill b Oram 24
Abdul Razzaq c How b Mills 3
Wahab Riaz not out 2
Umar Gul c Ryder b Oram 1
Extras (b 7, 1b 2, w 4, nb 1) 14
Total (9 wkts; 50 overs) 268
Fall of wickets: 1-20 (Mohammad Hafeez), 2-73 (Kamran Akmal), 3-120 (Younis Khan), 4-197 (Ahmed Shehzad), 5-205 (Misbah-ul-Haq), 6-248 (Shahid Afridi), 7-252 (Abdul Razzaq), 8-265 (Umar Akmal), 9-268 (Umar Gul)
Did not bat: Shoaib Akhtar
Bowling: Mills 10-2-42-2, Bennett 8-0-56-0, Oram 10-0-49-2 (1w), N. McCullum 10-0-40-1, Styris 9-0-51-2 (2w), Franklin 3-0-21-0 (1nb, 1w)
New Zealand
M. Guptill c Umar Akmal b Shoaib Akhtar 65
J. Ryder run out (Misbah-ul-Haq) 0
J. How c Mohammad Hafeez b Wahab Riaz 12
R. Taylor lbw b Shahid Afridi 69
B. McCullum c sub (Rehman) b Shahid Afridi 9
S. Styris run out (Younis Khan) 9
J. Franklin b Wahab Riaz 16
N. McCullum b Umar Gul 14
J. Oram c Umar Akmal b Umar Gul 10
K. Mills not out 4
H. Bennett b Wahab Riaz 3
Extras (lb 8, w 7, nb 1) 16
Total (all out; 46.5 overs) 227
Fall of wickets: 1-0 (Ryder), 2-53 (How), 3-112 (Guptill), 4-131 (B. McCullum), 5-150 (Styris), 6-192 (Taylor), 7-194 (Franklin), 8-207 (Oram), 9-222 (N. McCullum), 10-227 (Bennett)
Bowling: Abdul Razzaq 4-1-19-0, Shoaib Akhtar 8-0-32-1 (1w), Wahab Riaz 8.5-0-51-3 (1nb, 5w), Umar Gul 7-0-28-2, Shahid Afridi 10-0-55-2, Mohammad Hafeez 9-0-34-0 (1w)
Toss: New Zealand
Result: Pakistan won by 41 runs
Man-of-the-match: Ahmed Shehzad
Series: Pakistan 3-1
Umpires: Tony Hill (NZL), Steve Davis (AUS)
TV umpire: Chris Gaffaney (NZL)
Match referee: Alan Hurst (AUS)