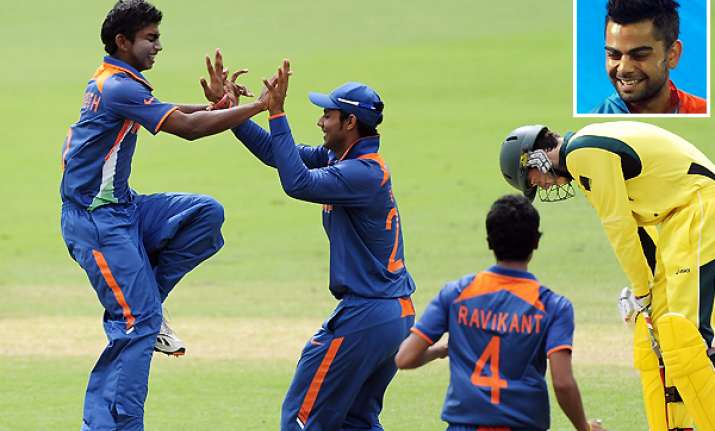 Hyderabad, Aug 26:
Virat Kohli
, who led the India colts to a World Cup triumph in Kuala Lumpur four years ago congratulated Unmukt Chand led team for beating the mighty Australians in their den.
"Beating Australia in Australia in a World Cup final has never happened before. It's a great achievement. We would love to wish the U-19 cricketers and congratulate them for winning the World Cup," Kohli said today.
"Having played at the U-19 level, I know how the feeling is... How special is to win the U-19 World Cup... When you come together for a long period of time and especially in Australian conditions," said the rising star of senior team who had shot to instant stardom after the U-19 World Cup triumph.
Kohli feels that the real journey starts from here on and it will only boost these boys' confidence.
"Doing so well there will boost your confidence. But most importantly, don't leave the hard work. I think your journey starts from here. It's going to give you a lot of confidence and set you up to do greater things in life. I think this is the time to focus and work harder," was Kohli's message for the youngsters.
"Enjoy the moment. Cherish it. It's going to stay with you for the rest of your life as it has for mine. As I said just live in the moment."
Hailing statemate Unmukt for a matchwinning 111 not out, Kohli said: "I think it's one of the best knocks I've seen in recent times. The amount of self-belief shown by you and all the boys including Smit Patel was amazing. As it was raining here, we were watching you guys on TV."