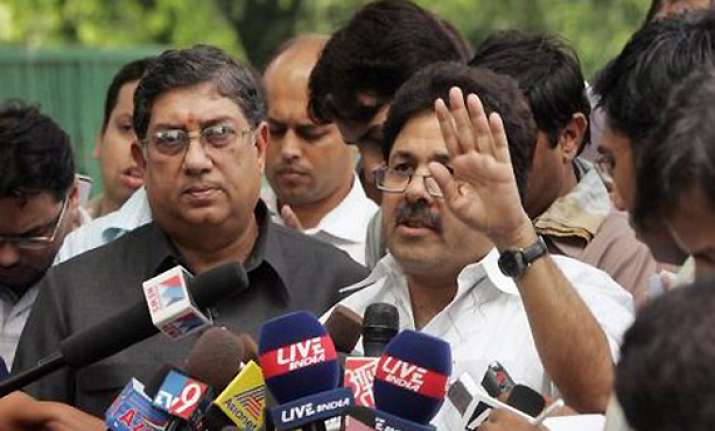 New Delhi, Feb 6: Stung by Sahara's pullout as sponsor of Indian cricket team and owner of IPL franchise Pune Warriors, the BCCI today took a more reconciliatory stand towards the aggrieved corporate giant, saying it was ready to sit across the table and sort out all the matters.

Two days after Sahara's shock decision to severe ties with the BCCI, its President N Srinivasan said that he was ready for a dialogue with the group to sort out the issues.

IPL Chairman Rajiv Shukla also sought to diffuse the situation by saying that the authorities were open to discussions to resolve the contentious issues.

"Most certainly, we are ready to meet and sort out the matters. We have no problems with that. We do appreciate what Sahara have done. They might have felt aggrieved and did not get what they wanted from the IPL. We had good relationships and so we should sort out the issues," Srinivasan said.

Asked if he was sending out a message of reconciliation, Srinivasan said, "Personally yes. I am open to dialogue and BCCI is open to dialogue. We recognise there were grievances on their part but there was no reason to break suddenly."

Srinivasan acknowledged that it was an up and down relationship between BCCI and Sahara but refused to go to the specific issues to be dealt if such a meeting takes place.

"It has been an up and down relationship but when we meet I hope most of the issues will be resolved. There is an opportunity to sit across the table with Sahara. All issues will be discussed but it will be premature to speak about the issues now," the BCCI chief told a television channel.

Asked about Sahara wanting to add the USD 1.8 million price of Yuvraj Singh to Pune Warriors' purse in the auction held in Bangalore, Srinivasan said, "Decisions related to IPL are taken by the Governing Council. Auction is over now. We can't pre-judge what are the issue BCCI and Sahara will discuss. There should be an element of secrecy in that. We should sit down and see how things can be sorted out.

"Yuvraj is not well and we wish that he not only recovers fully but also play cricket again." said Srinivasan.

He said he was surprised when he came to know that Sahara had ended their team sponsorship with the BCCI.

"I was surprised when I came to know (about Sahara ending sponsorship). There was a brief conversation the night before the auction. He (Subroto Roy) expressed that he has been hurt. It was a bit late in the evening and I did not expect they would pull out the next morning," said Srinivasan.

Sahara had signed a renewed sponsorship agreement with the BCCI on July 1, 2010 till December 31, 2013 and was paying Rs 3.34 crore per Test match, one-day international and Twenty20 International under the new terms. The deal is said to be worth about Rs 532 crore.

Sahara entered the IPL bandwagon last year by buying Pune Warriors for Rs 1702 crore, making it the costliest franchise in the Twenty20 event.

The BCCI stands to lose close to Rs 2000 crore if Sahara sticks to its stand. However, the Board can find another sponsor to neutralise the losses.

IPL chairman Rajiv Shukla also said that the authorities are open to dialogue.

"We are open to discussions, open for dialogue because they have been our partner for 11 years. We don't want anything to be decided in haste," Shukla said.