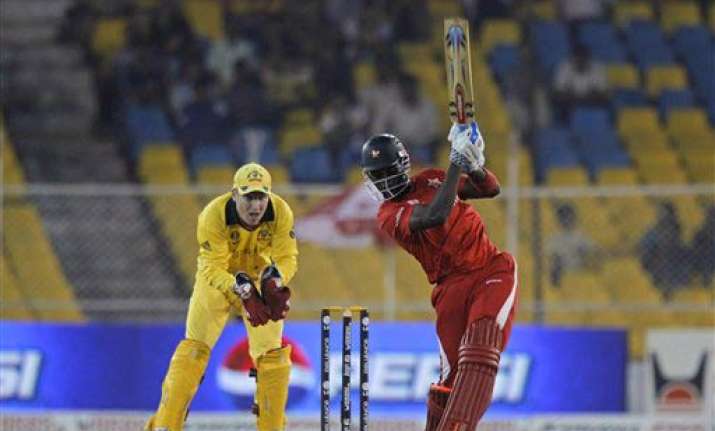 Ahmedabad, Feb 21: After being outplayed by defending champions Australia in their opening World Cup match at the Sardar Patel Stadium here today, Zimbabwe skipper Elton Chigumbura said the team needed to improve its batting.Chigumbura said thay lost too many wickets, too soon in the match, which Australia won by 91 runs.
"Batting was a problem for our side as we lost many wickets early. It would have been better to keep wickets in hand," Chigumbura said during the post-match press conference.
The skipper, however, was quick to praise his bowlers and said that bowling and fielding were the two positives from the match, and they would like to carry that forward.Coach Allan Butcher said that he too was pleased with the bowling and fielding. "But we needed to bat batter," he added.
He accepted that his team was outplayed by the defending champions, but added that this was just the first game and he would expect his team to get better.Butcher said that the spinners did an excellent job and had the Australians thinking.
Asked why the team chose to go for powerplay at the end of the innings, Butcher said that it would have not made any difference to the game as Zimbabwe were down and did not have the firepower to take advantage of the powerplay. PTI