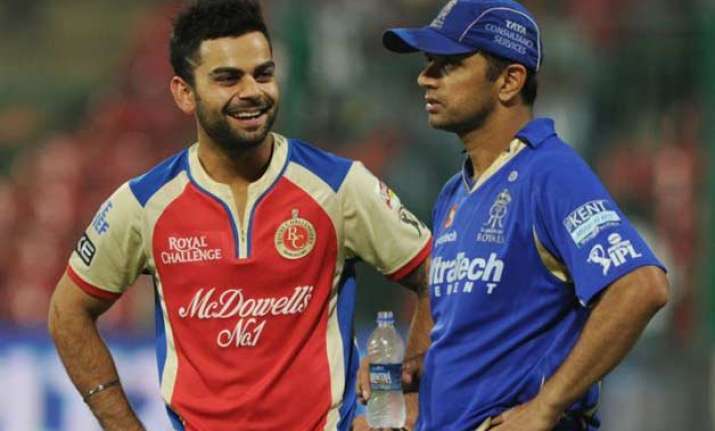 Chennai:  Rahul Dravid expects Virat Kohli to deliver in his first full series as Test captain when the Indian cricket team leaves for Sri Lanka, besides backing the star batsman to continue playing in his "aggressive" style.
"I think you have to be who you are. The beauty of this game is that it allows different people to succeed. Most people who succeed in this game over a period of time are aggressive. It is just that they show it differently. Some are more expressive and some are not," said India A coach here today when asked about Kohli's on-field behaviour.
Dravid and Kohli got to discuss cricket at length as the Sri Lanka-bound skipper chose to warm-up in the 'A' game which the the home team lost to Australia won by 10 wickets to win the series.
Asked about his expectations from Kohli in the upcoming tour of Sri Lanka, Dravid said: "I would just say that every tour is important. I don't think we need to make this more important. Every international tour is important. As much as you can put a spin. So he has to try and do the best he can.
"He can only work with the team he has got and focus on getting the best out of them. Sometimes things will not go well and sometimes it will. He is obviously very keen and hardworking. So it was great for him to come in and play agame here. The time he spent here will do him a world of good. He is keen, excited and looking forward towards doing well,"said the former India captain.
Cheteshwar Pujara and Kohli are the batsmen who got match practice ahead of the Sri Lanka sojourn. Dravid, however, did not get into the details of what he spoke to Kohli and Pujara.
"I am not going to be discussing technical issues of an individual with the media. We are constantly in conversation with Pujara, talking and working on a few things. It is nothing drastic or major. He (Pujara) just needs some time in the middle. Dravid was symphatic towards Pujara, who was run-out in the second innings against Australia A.
"It was unlucky that he (Pujara) got run out. Hopefully, if he plays the side game in Lanka and spends sometime it will help. I don't think he has any major issues (with his technique). He is a very aware cricketer. Me and Kohli have had general chats. Not something very specific. "But if you are spending four days with the Indian skipper, you are going to discuss cricket. But I am not going to come and tell you everything," said Dravid. PTI