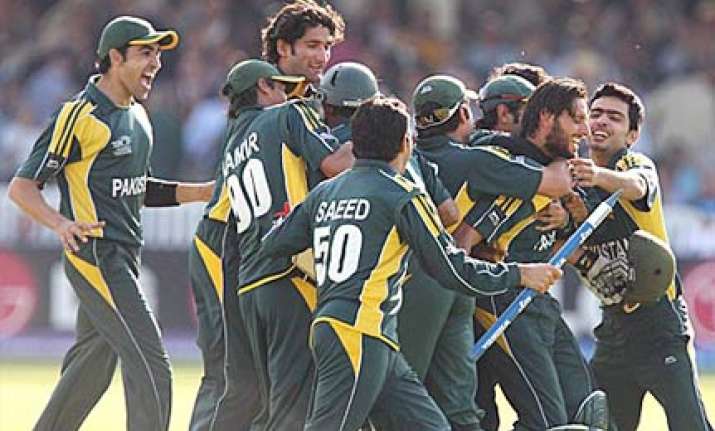 Pakistan is yet to name its captain for the Twenty20 World Cup in the West Indies and the trio of Shahid Afridi, Abdul Razzaq and Misbah-ul-Haq are fancying their chances.  
The senior players, considered the leading candidates for the post, said they would give their best shot if offered the post.  
"I don't know who the board appoints captain but I am confident whoever it is we can defend out Twenty20 World Cup title," Afridi said on Monday.  
The flamboyant all-rounder said his confidence remained high despite the recent bans on leading players.  
Afridi himself has been fined three million rupees and put on six months' probation for his ball tampering act in Australia.  
"Losing top players is a setback for any team but if I am appointed captain, I know I can deliver the goods for my country since we have a great team. We just need to back each other at this stage," he said.  
Fellow all-rounder Abdul Razzaq said he also was keen to lead Pakistan if the board showed confidence in him.  
"I don't know what is going to happen but I am asked to captain the team, it will be a big honour for me and also one of the biggest challenges of my career," Razzaq said.  
"Captaining your country is the highest honour for any player and obviously I would be happy to get this honour. But even if I don't get the captaincy I have no problems because I am willing to play under anyone," Razzaq said.  
The all-rounder said Pakistan stood a very good chance of doing well in the Twenty20 World Cup as it had some explosive players.  
"We have players like Afridi who can turn a match upside down, that is why I say we can defend our title in the World Cup," he said.  
Senior batsman Misbah-ul-Haq said he had not thought about becoming captain of the team but would step up the plate if offered the job.  
"If the board wants to give me this responsibility, obviously I will not say no because it would be a great honour for me," Misbah said.  
"I am not thinking about it at this time but if I am made captain then I have a clear mind on what I want to do and how I can successfully manage the team," Misbah said.  
"I have a clear plan in mind and I know we can do well if we support each other in these testing times for Pakistan cricket," he said.  
Misbah also made it clear he would not mind playing under any other captain and would be willing to play his role as a senior player.  
All the three have been named in Pakistan's 15-member squad for the World Cup. PTI