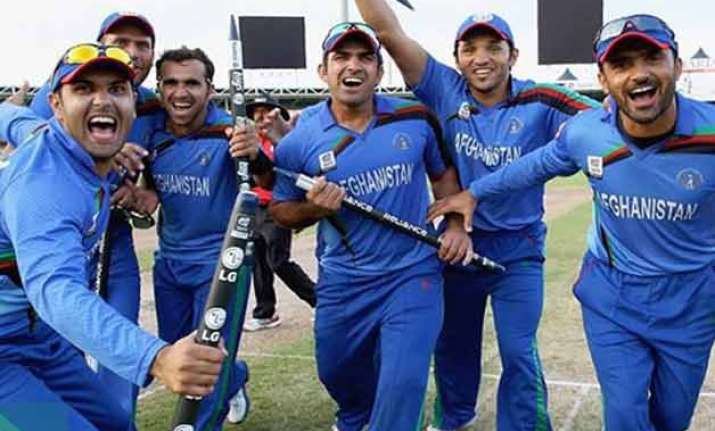 New Delhi: India may soon get to host the home matches of Afghanistan cricket team in the way UAE hosts Pakistan home matches.
Afghan President Ashraf Ghani will visit India next week and according to some media reports, he is likely to discuss the possibility of India helping the Associate team in hosting matches.
The Afghanistan Cricket Board (ACB) has requested its Indian counterpart Board of Control for Cricket in India (BCCI) to provide ground for its team to host matches. The Afghanistan team, at present, uses the Sharjah cricket ground as home venue.
The Afghanistan team, presently ranked at number 12 in the World, are hoping for the BCCI to grant them the Feroz Shah Kotla stadium in Delhi to stage home matches. The demand was made even in 2013.
The Afghan side had also been seeking inclusion of some of its players in the Indian Premier League, though there have been no takers so far.
As quoted by The Hindu, Basheer Stanekzai, manager of the Afghanistan Cricket Board, has said that the country holds Indian players in high esteem and is looking for help from the Indian side.
"It will really help our players if India were to reserve a home ground for us. Our players are good; they need exposure and facilities like camps. If the younger ones get to play in India, they can get noticed and picked for IPL teams." Stanekzai told the newspaper.
India has stadiums which host International matches, and after IPL they'll lie vacant for most of the time. Thus, it would be a win-win deal for the BCCI if it permits the ACB to host matches here for it will not only promote cricket but strengthen the relations between the two nations.
Afghanistan cricket team was lauded for its performance in the maiden ICC World Cup tournament this year. The Afghanistan team, an associate nation, not only qualified for World Cup 2015 but also registered its first win in the tournament against Scotland.