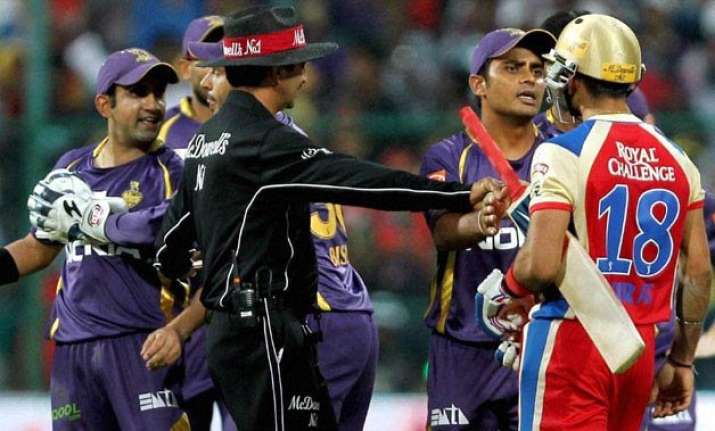 Gautam Gambhir's altercation with Manoj Tiwary in a Ranji Trophy match at the Kotla does not come as a surprise. Gambhir has a long history of losing his cool on the field.
After the latest incident, many felt enough was enough. Having sullied the gentleman's game, it was felt that Gambhir needed to be banned for at least one game to send a stern message across. But he escaped with a penalty of 70% of his match fees.
Here are five more occasions when Gambhir's fiery temper got the better of him during a match.     
Gambhir vs Afridi
Gambhir's hot-headed nature first came to light during a clash with Shahid Afridi in the third ODI at Kanpur on Pakistan's tour of India in 2007. Trying to grab a quick single off Afridi, Gambhir ran straight into the bowler who was clearly not impressed. The two had already exchanged words after Gambhir hit a four and now the obscenities got even more colourful. Afridi was fined 95% of his match fee while Gambhir got away with 65%.   
Gambhir vs Watson
Less than a year later, Gambhir was involved in another spat in the third Test against Australia at his homeground in the Kotla. This time the target of Gambhir's ire was Shane Watson. Angered by Watson's constant sledging, he elbowed the bowler while returning for a second run. Gambhir, who made a double century during that innings, was promptly banned for one Test because it was his second such offence in the last 12 months.
Gambhir vs Katich
On the same day of the same Test, Gambhir had a run-in with Simon Katich. After VVS Laxman played a straight drive, the ball ricocheted off Katich's hands. The bowler and the non-striker Gambhir then found each other in the way. Katich couldn't field the ball and Gambhir couldn't take a run. That was enough to wind up Gambhir before umpire Billy Bowden stepped in between the two and kept them apart.
Gambhir vs Akmal
In the 2010 Asia Cup, Pakistani wicket keeper Kamran Akmal made an overzealous appeal for a catch when Gambhir was batting. The appeal was turned down and during the drinks break that followed, Gambhir and Akmal advanced towards each other and almost butted heads while exchanging glares. One of the umpires separated them and an amused MS Dhoni, who was the other batsman in the middle, quickly pulled Gambhir away to defuse the tension.  
Gambhir vs Kohli
The most infamous of Gambhir's brawls was with Virat Kohli during an IPL game in Bangalore in 2013. It was especially shocking as both of them were teammates for Delhi and India. As one wag put it, you can take them out of Delhi but you can't take Delhi out of them. After Kohli was caught in the deep, Gambhir couldn't resist giving him a sendoff. This raised Kohli's hackles and the incident could have become uglier if another Delhiite, Rajat Bhatia, had not rushed to the scene and separated them.