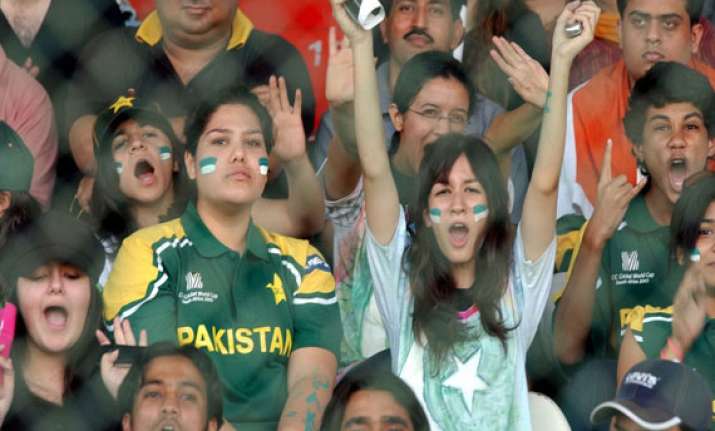 New Delhi, Nov 3 :India is likely to issue 5,000 visas to Pakistani spectators to watch the Indo-Pak cricket series beginning December 25 but after framing stricter guidelines this time as several of them did not return home after watching such matches in the past.
A high-level special committee, comprising officials of Home Ministry and security agencies, will meet on Monday and frame visa guidelines, finalise types of visa to be given to Pakistani cricket fans, whether to give the visa for one match or for multiple matches, official sources said.
Extra precautions may be taken this time before granting visa to Pakistani spectators as several Pakistanis went missing and did not return home after arriving in India to watch cricket matches in the past.
During his interrogation, Pakistani-American terrorist David Headley had said that many Lashker-e-Taiba activists had carried out recce of vital installations including, National Defence College, during the Indo-Pak cricket match in Delhi.
"Though in the past, India had been liberal in granting visas to Pakistani cricket fans, this time stringent measures may be adopted before issuing the visa," an official said.  Union Home Secretary R K Singh had discussed the issue of granting visa to Pakistani fans when he met a delegation of Board of Control for Cricket in India (BCCI) on Tuesday.
The special committee, which includes Additional Secretaries Khurshid Ahmed Ganai and K Skandan, was constituted after the Tuesday meeting where the Home Ministry gave the security clearance and assured BCCI foolproof security of the venues and overall vigil.
The series would comprise three ODIs and two Twenty20 Internationals between December 2012 and January 2013. The ODI matches are likely to be played in Chennai, Kolkata and New Delhi and the Twenty20 games in Bangalore and Ahmedabad.