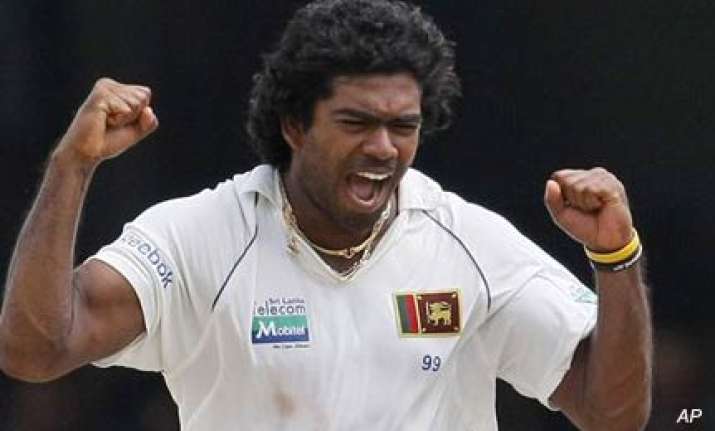 Colombo: With pitch deteriorating fast at the P Sara Oval here, Sri Lanka pacer Lasith Malinga today said a 250-plus score would be enough to defend against the famed Indian batting line-up in the third and final Test. Malinga felt it will not be easy for the Indians to handle spin duo of Suraj Randiv and Ajantha Mendis when they will be chasing a target.  
"I think a score of about 275 runs will be a decent total. Although we have lost two wickets this evening we still have batsmen who are capable of making runs even on bad wickets," the right-arm fast bowler told reporters after the third day's play.
"I am hopeful and confident that we will put up a decent total in the second innings and if we are able to do that, we have the bowling in Randiv and Mendis who can be effective on a turning wicket. They could pose quite a challenge to the Indian batsmen in their second innings," Malinga said. Malinga bowled aggressively and threw a lot of bouncers at the Indian batsmen in their first innings but managed to get only three wickets at a cost of 119 runs.  
He though became only the third Sri Lankan to capture 100 or more Test wickets. "I thought bowling a bit short at Indian batsmen would be the best thing to do. That is why I used the short ball little bit more than usual.  
"But I am happy that I got 100 wickets and joined the select band of bowlers. I was subject to injuries in the last one-and-a-half years which prevented me from playing Test matches. But now I have got back into the game and have been able to pick up 100 wickets. I think it is a big encouragement for me," he said. He was of the view that the wicket has very little to offer to the fast bowlers.  
"I did not deliberately bowl slower than usual. I tried hard but perhaps the wicket did not assist me. That is why the bowl was not going at about 140 kmph," Malinga said.  
After an impressive seven-wicket haul in the first Test, which Sri Lanka won, Malinga willingly opted out of the second game of the series due to strain and he said it was just a precautionary measure.  
"After the first Test, I felt strain on my body and since I was coming back to Test cricket after a long time, I told the selectors that I would like to stay out of the second match," he said.
"The selectors in turn said if I was feeling a strain on the body then I could even rest the third Test as well. But taking rest, my body had recovered sufficiently to play in the third match," he added. Malinga also supported his off-colour pace colleague Chamara Welegedara, who was brought back into the team after sitting out in the second Test.
"Probably, Welegedera was droopped because the selectors felt Dilhara Fernando and Dammika Prasad would be more effective on the SSC wicket (in second Test) but he was brought back for the third Test," Malinga said.  
"Although Welegedera has not been successful so far in this match, he is a bowler who has been amongst wickets in the past. He is bowling well but it is unfortunate that he did not wickets in the first innings. "He could always come back in the second innings. If he gets support from the other end, he could become much more effective," he added. PTI