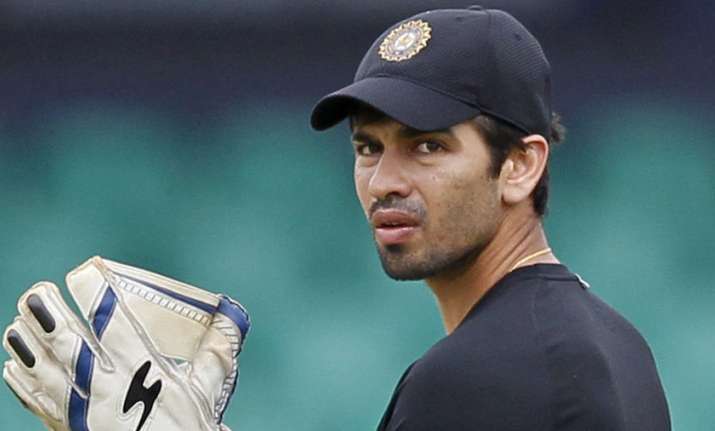 India wicketkeeper Wriddhiman Saha on Thursday brushed aside talk of competition with Parthiv Patel for a place in the Test cricket team after the senior Gujarat stumper impressed with the bat in the three matches he played against England.
"There is no competition with him (Parthiv). I like to bank on my chances. I don't go into any competition," Saha told reporters on the sidelines of his club Mohun Bagan's practice session for a Cricket Association of Bengal (CAB) local league match. Saha will be visiting his hometown in Siliguri and won't take part in the game.
"Parthiv has played well and the team has won so it's good. Now when the selection will happen the picture will be clear."
"I don't think about it. Parthiv is also trying to comeback into the fold, so whatever selectors will feel right is right. I have never regretted anything," Saha, who was ruled out of the side after picking up an injury in the second Test in Visakhapatnam, said.
Patel scored 195 runs in three matches at an average of 65.00 with two half-centuries. Saha, on the other hand, managed only 49 from his two outings at an unimpressive average of 12.25.
Asked to assess the Australian team which is slated to tour India in February, Saha said, "It can be easier than England since they do not have a good record in Asia lately. There are few new Aussie players who have not played in India."
"It won't be easy for them. At home, whoever plays are always favourites. There is our recent form also."
Saha batted for the first time after the second Test where he got injured in the third week of November. The Bengal stumper spent about 20 minutes at the nets.
"It feels good to be batting again. I don't have a problem. I practiced in NCA (national cricket academy) also but did not bat there. This is the first time I batted after the second Test," Saha said.
On the Decision Review System (DRS), Saha said, "Sometimes it is effective, sometimes it is not. DRS is best viewed by a bowler as he can understand the movement better."
Saha also stressed on the importance of the lower order contributing with the willow.
"Whichever team has more lower order contribution will do better. England also had lower order contribution before coming to India," Saha said.
Saha also praised premier off-spinner Ravichandran Ashwin as the best all-rounder in the world at the moment. Ashwin, who picked up 72 wickets from 12 matches, became the third Indian cricketer to be adjudged the International Cricket Council (ICC) Cricketer of the Year after Rahul Dravid in 2004 and Gautam Gambhir in 2009.
"Ashwin is best all-rounder in the world. His wicket reading is superb, and he can read a batsman's mind."
(With IANS inputs)