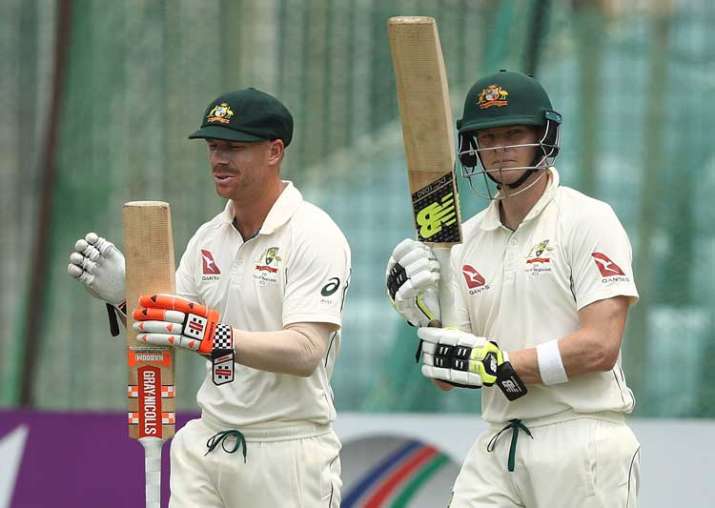 Combative opener David Warner is confident he'll overcome a neck strain to take his place for Australia in the Ashes series opener against England.
Warner hurt his neck during a fielding practice session at the Gabba on Tuesday but had recovered enough to bat in the nets on the eve of the match.
"Davey s going well, he just had a hit just before, he is very confident - he says he'll be right to go," Australia skipper Steve Smith told a media conference Wednesday. "He's improved a fair bit over the last 24 hours and hopefully he can keep improving and be 100 percent.
"It's part and parcel of playing cricket. Guys have injuries every now and then, and have little niggles."
Selectors decided to fly Glenn Maxwell into Brisbane as batting cover in case Warner is unable to play, leaving recently deposed Australian opener Matthew Renshaw free to play a domestic first-class match for Queensland.
Warner stirred up lively debate in Britain and Australia with pre-series comments about the level of hatred and aggression in the Ashes.
Nathan Lyon took it up this week, reportedly saying the Australians were aiming to end the careers of some of the England players.
Smith dismissed it all as just Ashes hype.
"For us it's all part of pre-Ashes banter really, that's been round for years," Smith said. "For us it is about ensuring when we get out in the middle we are playing hard - not crossing the line.
"There is a line there that is not supposed to be crossed, but we will play some good, hard, aggressive cricket that's for sure."
Smith, Lyon and Warner were all part of the Australian squad which swept England 5-0 in the last Ashes series Down Under.
But the English have won four of the last five series, and new skipper Joe Root is focusing on that rather than what he called the "external noise."
Root said he expected Warner to play in the series-opener, and wouldn't be distracted by speculation about a change in the Australian lineup.
"I'm sure he'll be fine," Root said. "I don't think we need to change our plans. We'll be absolutely ready for him to play."