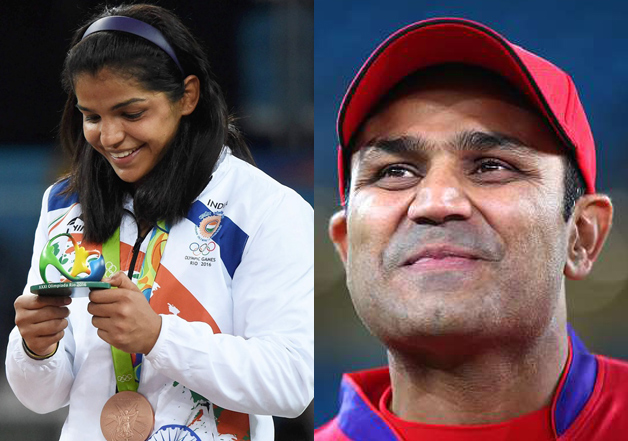 Wrestler Sakshi Malik expressed her desire to meet former Indian cricketer Virender Sehwag on Twitter yesterday. The Nawab of Najafgarh on Thursday told the Olympic bronze medallist that he would love to meet her provided she fulfils one condition.
The reply from Viru Paaji was not plain, though. In his tweet he told Sakshi that he hopes she doesn't start wrestling with her.
Here are the tweets exchanged between the two sporting legends.
@virendersehwag Good morning sir , I want to meet u , please tell me time, when u feel convenient,today or tomorrow,
Sakshi malik

— Sakshi Malik (@SakshiMalik) August 25, 2016
Sure ,will let you know the time. Hope you won't start wrestling with me, Sakshi ☺ https://t.co/XTau8YTnEd

— Virender Sehwag (@virendersehwag) August 25, 2016
23-year old Sakshi ended India's dry spell at the Rio Olympics by winning a bronze medal in the 58 kg category of women's wrestling. Sakshi, thus, became the first Indian female wrestler to achieve the feat. On her win, she was showered with congratulations from every corner of the nation.
One of the wishes that Sakshi got was also from Virender Sehwag. Being the 'king of epic tweets', Sehwag hit two birds with one stone. In his congratulatory tweet, he wrote '#SakshiMalik ke gale me medal kitna "Sobha De" raha hai na'.
#SakshiMalik ke gale me medal kitna "Sobha De" raha hai na !!! #HappyRakshaBandhan pic.twitter.com/5qnN0tbD4y

— CricShots (@cric_shots) August 18, 2016
For those who could not understand the reference, Sehwag's tweet was a jibe at writer and novelist Shobhaa De, who had earlier tweeted that Indian athletes went to Rio just to click selfies. De had said that none of the representatives want to get India a medal.
Virender's tweet was one of the highs of the Shobhaa De fiasco.
Now, that Sakshi is to meet Sehwag soon as pointed out by their tweets, one can expect an epic meet. We think Sakshi would have a great time laughing her guts out given Sehwag's sense of humour. We are sure, fans can't wait!