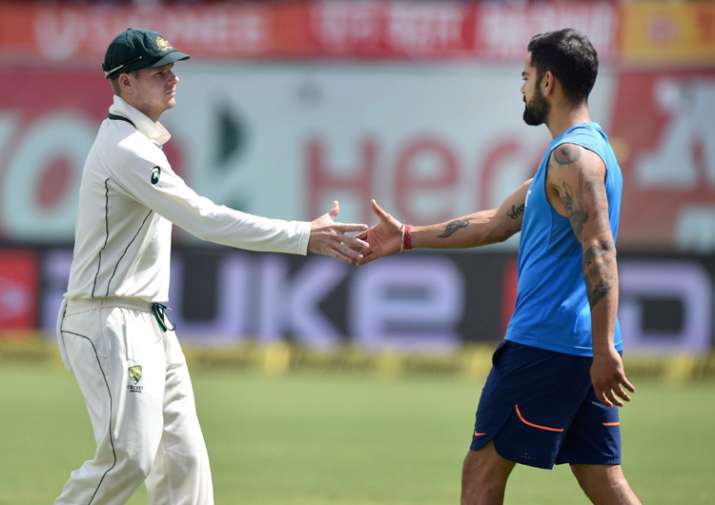 The series loss India handed to Australia in the recently concluded four-match Border-Gavaskar Trophy Test series has not gone down too well with the Australian media. 
The series that had already seen a good dose of high-voltage drama was driven to a new low by the Australian media which termed Indian skipper Virat Kohli as the 'Donald Trump of world sport'. 
The tirade of personal attacks on Kohli by the Australian media continues with the latter now labelling him as "classless" and "childish" following his provocative comments after the fourth Test. 
After being targeted both on and off the field by Australian cricketers, Virat had said that he no longer considers them friends. 
On this, Sydney's Daily Telegraph, calling Kohli an "egomaniac", wrote, "Virat Kohli had to shake hands and move on after series win but he acted like a child".
"Beergate: Kohli's latest classless act," another headline said. 
Meanwhile, Australia's Peter Lalor wrote: "If there were any doubts about the poor spirit between the Indian and Australian sides it was confirmed after the series when the home side shunned a suggestion the two sides drink together". 
Kohli's behaviour was compared to that of his Australian counterpart Steve Smith, who apologised for calling Murali Vijay a "f****** cheat" after he claimed a catch when the ball had touched the ground. 
"All Virat Kohli had to do was say sorry. Steve Smith did," wrote another Australian journalist. 
Earlier, during the series, the Australian media had launched a scathing attack on Virat Kohli, describing him as the "Donald Trump of world sport". 
"Virat Kohli has become the Donald Trump of world sport," read the article published in the 'Daily Telegraph'.
"Just like President Trump, Kohli decided to blame the media as a means of trying to hide the egg smeared right across his face," the article added.
In recently concluded series, India returned from one down in Pune to win the second Test in Bangalore. The third Test in Ranchi ended in a draw but the series decider in Dharamsala went to India. The Kohli led side outclassed Australia in every department to reclaim the Border-Gavaskar trophy 2-1. 
India have remained the number one test side – something that Australia considered a domain of its own until recently -- and it seems that Aussie media has been unable to digest the defeat and the feat of top Test side to its Asian rival.