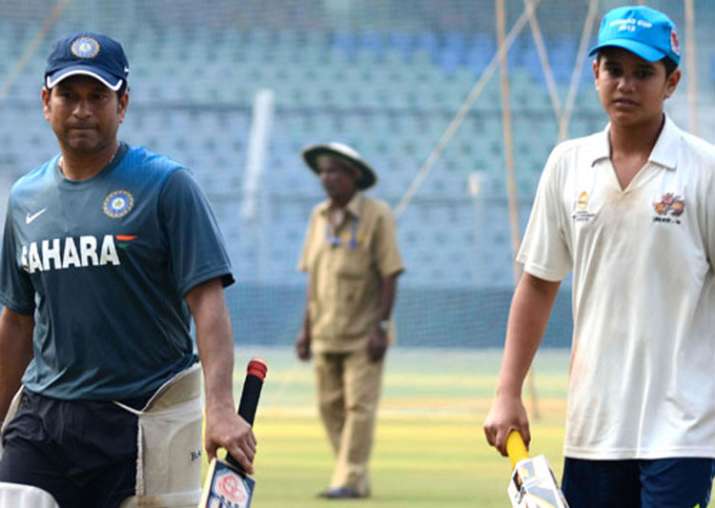 Amidst the happiness and pride to watch his son Arjun doing wonders with the ball, India's batting legend Sachin Tendulkar strongly believes the prodigious pacer needs to have his own recognition in the game that his dad ruled for more than two decades.
During his recent visit to the Auto Expo in Greater Noida, when a journalist from The Times of India asked if he sees the next Sachin in his son, he replied: "No, he should be Arjun. There shouldn't be any comparison."
The 44-year-old said that his son has all the freedom to take important decisions in his life. "He's trying. Like my father gave me freedom, I'm giving him freedom. Whatever he wants to be in life, he has to give his best," he said.
Like father, like son, Sachin's son Arjun made a strong impression recently after he claimed four wickets and played a quick-fire knock of 48 runs while representing Cricket Club of India in a T20 match against Hong Kong Cricket Club at Bradman Oval in January. (Read full story)
Unlike Sachin, who is regarded as the 'God of Cricket' worldwide for his batting abilities, Arjun likes to bowl rather than batting. Talking about the pressure Arjun has to deal with, Sachin said those things are there but Arjun's focus should be on the game and on his passion. 
"Comparisons would happen; if they want to do it, they will. But what I've learned from my father is that whatever work you've got to do, keep your focus on that. Rest of the things will continue to happen. Ups and downs are part and parcel of life. That'll happen as long as you stay passionate. Then, you will be in a position to overcome those obstacles. You'll push yourselves. And I've tried to do that. My experience was really good, the way my father gave me freedom, responsibility came alongside that freedom. So that is what I am trying to do," he added.