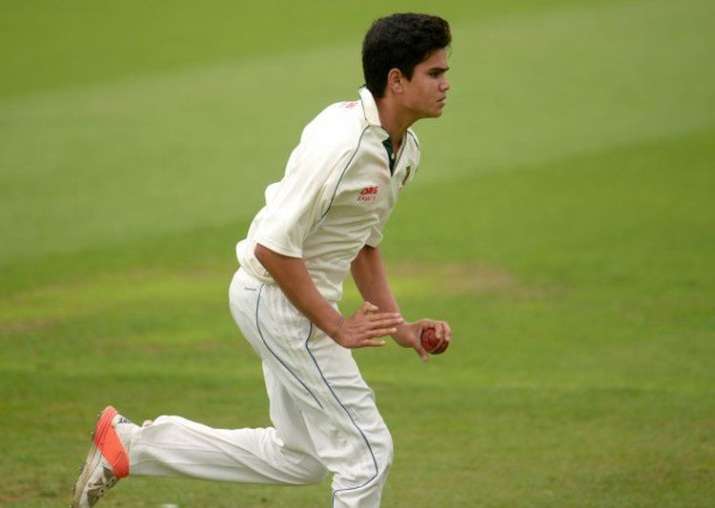 Like father, like son, Sachin Tendulkar's son Arjun made a strong impact on the Australian soil after he claimed four wickets and played a quick-fire knock of 48 runs while representing Cricket Club of India in a T20 match against Hong Kong Cricket Club at Bradman Oval on Thursday.
Unlike Sachin, who is regarded as the 'God of Cricket' worldwide for his batting abilities, Arjun likes to bowl rather than batting.
However, with a swift knock of 48 runs off 27 balls, the 18-year-old promised a better future for Indian cricket and made a lot of heads turn in Australia.
The prodigious pacer is determined to carve his own path as a cricketer and does not depend on his family name. However, he always seeks valuable advice from his dad ahead of big matches.
"He (Sachin) says just play fearlessly, play for your team, be a team man and give everything you've got," Arjun, speaking with abc.net.au, revealed what his dad had advised him.
Taking inspiration from Australian paceman Mitchell Starc and England all-rounder Ben Stokes, Arjun aims to bowl for India in near future. Watching his development, cricket fans and pundits expect a lot from the legend's son but that pressure doesn't bother Arjun.
"I don't take that pressure, when I bowl I just hit the deck hard on every ball and when I bat just play my shots and choose which bowlers to take on and which bowlers not to," he said.
"I'm just so privileged to play on the ground named after the Bradman, it's unbelievable," Arjun grinned like a Cheshire cat while talking about the historic cricket ground, where his father last visited in 2014.
The left-handed speedster said earlier he used to play taekwondo, football, swimming, but cricket somehow kicked in and everything else took a back seat then. 
"I just got stronger, grew taller and I loved bowling fast from my childhood. I thought I may as well be a quick bowler because there aren't many in India," Arjun added.