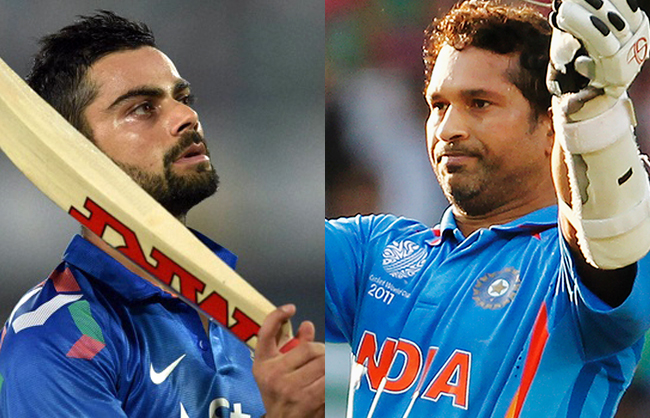 Looking at the rate at which Virat Kohli is going, even little master Sachin Tendulkar has admitted that it is only the Indian captain who could better his records. Already having equalled master blaster's record of 17 centuries while chasing, Kohli looks unstoppable at the moment.
Often being likened with his idol, Kohli sought to put the debate at rest once and for all, saying it was impossible for any batsman, including him, to achieve what Sachin did.
"I might not play that long (24 years). 200 Tests, 100 international centuries. Those are incredible numbers and will be impossible to achieve. But yes, I want to make a difference and always believe that I must leave the game on a better note," said Kohli.
Kohli also added that one of the secrets of his stupendous success is "not having too many close people" in his life which adds hindrances such as "distractions" and "time management" on the path of glory.
"Luckily, I don't have too many people in my life that I am close to. I think that helps. If you have too many people and too many friends you speak to, you get distracted and your time management becomes impossible," Kohli told former England captain Nasser Hussain in an interview for bcci.tv.
One of world's premier batsmen, Kohli feels that one should not limit his ambitions. "I think, somewhere as sportsmen, we somehow already limit ourselves to what we do without even knowing how much we can do. That's something I never put a limit on," Kohli said.
"I always love to explore my maximum ability as far as my intensity in the field is concerned. And even with managing time, the day I get burnt out is the day, I start cutting down on things. I never put any limitations on what I want to do in life."
"You just got to create a good balance and move forward. It's been fine till now. I am able to maintain a balance as of now I can say," he said.