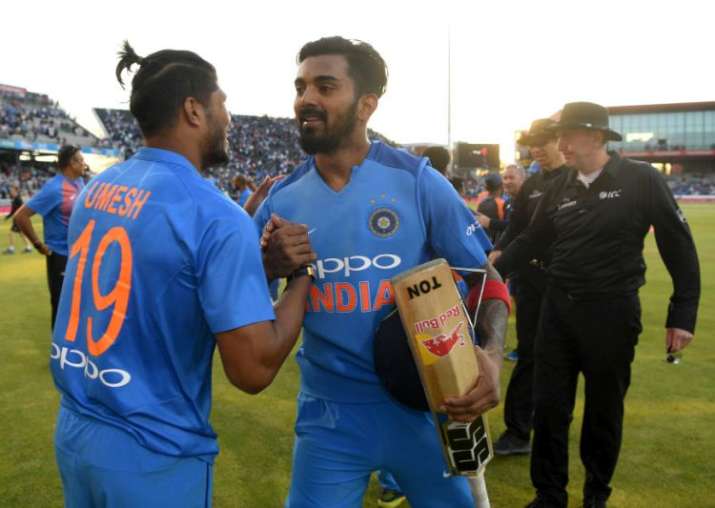 After scoring a match-winning ton against England in Manchester on Tuesday, KL Rahul has said that staying out of the team has made him value his spot in the Indian cricket team and now he takes his every game as if it's his last.
"Staying out of the team has made me value my spot. Every time I go out there, I feel like it's my last game because the kind of competition we have in the country and in the team is madness. Whenever I get an opportunity, I want to give my best," Rahul told teammate Dinesh Karthik in a video interview posted by BCCI. (Watch: Rahul plans Ronaldo and Pogba style celebrations on England tour)
Having made his international debut with a Test match against Australia in Melbourne in December 2014, Rahul has played just 24 Tests, 10 ODIs and 17 T20Is for India. The opening batsman has faced tremendous competition for his spot in the team with players such as Rohit Sharma, Shikhar Dhawan, Karun Nair and Murali Vijay across all formats.
On Tuesday, the 26-year-old right-handed batsman made the best out of opportunity when he scored an unbeaten knock of 101 runs to guide India to an emphatic eight-wicket win at the Old Trafford. 
Terming the knock a special one, Rahul said: "I have a few international hundreds but this means a world to me. This is very special because the last international hundred I got was about two years ago. I've been getting fifties in the IPL, even in the Test matches and been in and out of the ODI team. It has been a rough road in the last one and half years.
"I have not been someone who chases numbers but when I was not getting the three-digit mark then I released how important it is," the Bangalore-born batsman added.
The recent edition of the Indian Premier League (IPL) gave Rahul a platform to regain his lost form. Coming out of the shadows of captain Virat Kohli in Royal Challengers Bangalore (RCB), Rahul played for Kings XI Punjab in the 11th season and scored 659 runs in 14 matches.
Rahul acknowledged the cash-rich league for helping him gain confidence and assured that he will continue the momentum for the national team. "I have strived to finish games for my team in the IPL. The IPL success has given me immense confidence. I've worked hard on my fitness. Hopefully, I continue and carry this momentum forward," he concluded.