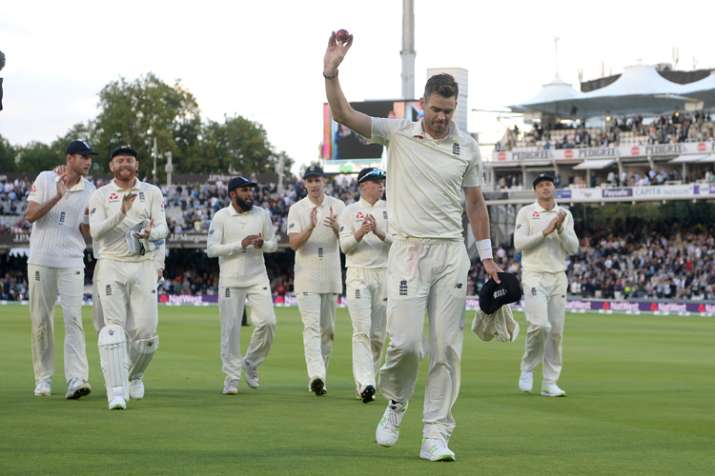 The inept technique coupled with a fragile temperament of Indian batting was thoroughly exposed as they crumbled to 107 all out against a top quality England seam attack on a rain-hit second day of the second cricket Test. (MATCH HIGHLIGHTS)
While skipper Virat Kohli had insisted that there are no technical problems but the horrendous batting effort painted a sorry picture. (FULL SCORECARD)
Put into bat under overcast conditions, the frailties of a wobbly top order was there for everyone to see as veteran Jimmy Anderson (5/20) made them hop, skip and jump on a track with his 26th five-wicket haul in longest form. He was ably complemented by Chris Woakes (2/19), Sam Curran (1/26) and Stuart Broad (1/37).
The excessive seam movement became too hot to handle despite only 35.2 overs being bowled on the day.
Anderson was right on target removing Murali Vijay (0) with a delivery that pitched on the middle stump line and moved enough as the opener tried to flick it, only to miss the line completely.
KL Rahul (8) lazily nicked a delivery on the fourth stump as India lost their openers in very first session in which only 6.3 overs were bowled.
Cheteshwar Pujara (1, 25 balls) left a lot of deliveries but was once again run out trying a quick single with his skipper Kohli backtracking after initially responding to a call.
The only hope was the skipper himself and his deputy Ajinkya Rahane (18), who had scored a memorable century in 2014.
With the conditions adverse, not for once did the Kohli-Rahane duo look settled during their 34-run stand off 13.1 overs.
If Anderson wasn't troubling them with an off-stump channel, then it was comeback man Woakes, who was ready to make life miserable for the duo.
Replacing first Test hero Ben Stokes, Woakes repeatedly hit the seam and got it to nip away from the right-handers beating the bat innumerable times.
Finally, Kohli (23) who had battled hard for 70 minutes and 57 balls, forced into committing a mistake by Woakes.
A delivery that pitched on middle stump hit the seam and Kohli closed his bat face with a leading edge being gobbled at the slip by Jos Buttler.
Hardik Pandya (11) didn't learn from his mistakes as he was dropped by Buttler in the slip cordon and played a similar shot with hard hands to be caught by the same fielder.
Dinesh Karthik (1) was clueless as Curran got one to dart back in as it breached it his defences.
Rahane's patience gave away as Anderson coming for his second spell bowled a beauty to force him to edge one to the slips as India's resistance ended in a jiffy.
It was Ravichandran Ashwin's 29 that ensured that India crossed the three-figure mark as England gained complete control despite a day and half's play being already lost due to inclement weather.