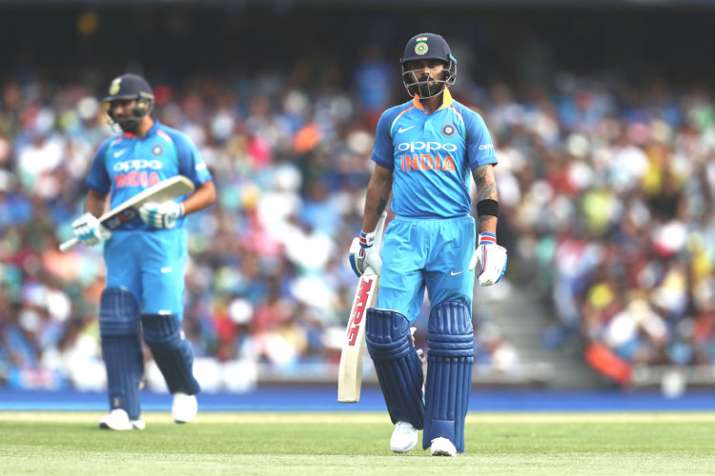 Team India coach Ravi Shastri wants his team to be more flexible and that could mean Virat Kohli going down the order during the World Cup in England.
With the No.4 spot still an issue for India, Shastri feels that Kohli could do the job second down if needed. However, his main reason remains negotiating the swing and early nerves in a big tournament like the World Cup.
According to Shastri, Kohli along with Rohit Sharma and Shikhar Dhawan are big players for India in the 50-over format and they are one of the reasons behind India's success lately.
However, he stressed on the fact that no tinkering would be done with the opening pair of Rohit and Dhawan as they are perhaps one of the best pairs of all time in ODI cricket.
"The top-order is a big factor for India in ODIs. Dhawan and Rohit are one of the best ODI opening pairs at the moment. Why? Because, again, they have put the word 'overseas' in the bin. It is the best example. They score runs irrespective of opposition and conditions. Where have they not score runs, tell me?
"I think the left-right combination really helps them. Look at the speed with which Dhawan has got 5000 ODI runs. Look at Rohit's record, three ODI double hundreds, did we even think that was possible? When they finish, I think they will be comparable to Sachin Tendulkar-Sourav Ganguly - India's best opening pair in ODIs, or even Matthew Hayden-Adam Gilchrist (Australia) and Gordon Greenidge-Desmond Haynes (West Indies). They are big game players. If you have a good number four and five, you back them up," Shastri told Cricbuzz.
But, he goes on to add that Kohli could be go down the order if the situation demands as the team doesn't want to lose all their best players early on in the match in a big tournament.
Who at three then? Well! He feels Ambati Rayudu can slot in at first down if such a situation arrives.
"The good thing about this Indian top-three is we can separate them, if conditions and situations demand. Someone like Virat Kohli can go to number four, and we can put a good number three to bring more balance to the batting line-up. That's flexibility for you, and for big tournaments like the World Cup, you have to be flexible to see what's the best balance for the side. So we will decide that (accordingly in England).
"Yes, maybe Rayudu, or someone else, could bat at number three, and Kohli comes in at number four. We wouldn't want to disturb the opening combination. Separating the top-three could make the batting stronger," Shastri said.
"But we will assess that on seeing conditions there in England. You don't want to be 18-3 or 16-4 in a big tournament. I don't care about bilateral ODIs, but why should I lose my best batsman early in a World Cup match (if the conditions are bowler friendly)?," he added.
Former captain Mahendra Singh Dhoni also remains in the mix for a promotion according to Shastri even though Kohli feels No.5 is the best place for MS.
"Of course! He is still a great batsman, and is finishing matches for us. You saw in Adelaide, and he has been in terrific form this year. He may not be Dhoni of 2008 or 2011. But experience is not bought or sold in the market," the 56-year-old said when asked about Dhoni being moved around the batting order according to the situation.