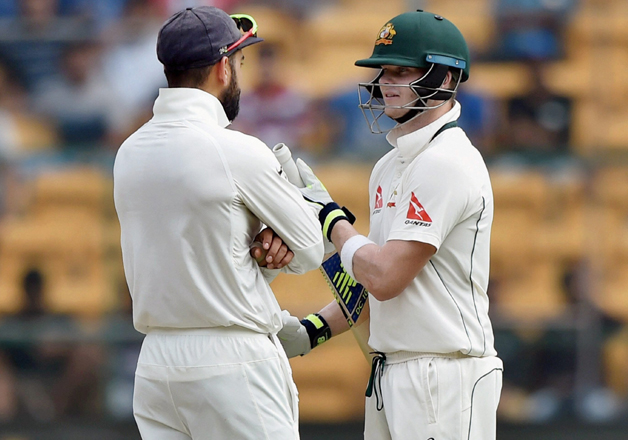 Former Indian captains Sunil Gavaskar and Sourav Ganguly have slammed Australian skipper Steve Smith for seeking inputs from the dressing room after being adjudged leg-before off Umesh Yadav on the fourth day of the second Test.
"I don't think that was in the spirit of the game. We have to see what the ICC and match referee do. I have not seen other earlier incidents but I saw it clearly when Smith did that today, he was clearly gesturing to the dressing room," Gavaskar said.
Ganguly, on the other hand, also demanded action from authorities over Smith's action. 
"The umpires and match referee must ensure this doesn't happen in future," Ganguly said.
India yesterday defeated Australia by 75 runs in the second Test at the M Chinnaswamy Stadium in Bengaluru. Chasing a target of 188 runs, Australia were all out for 112 in their second innings shortly after tea on the penultimate day. India have now levelled the four-Test series at 1-1.
Meanwhile, Australia batsman Peter Handscombe has admitted his fault in suggesting Smith to seek inputs from the dressing room.
Post-midnight, it was Handscombe, who took to twitter to defend his captain and take the blame for what Smith has termed as a 'brain fade'.
Handscombe said that he did not know the rules pertaining to DRS referral. 
"I referred smudga to look at the box... my fault and was unaware of the rule. Shouldn't take anything away from what was an amazing game!," Handscombe wrote on his official twitter page. 
Explaining about the incident, Smith said that there was a bit of brain fade when he turned to the dressing room. 
"I got hit on the pad and looked towards the non-striker batsman and then turned around towards Paddy. I should not have done that. This happened for the first time. I was looking at our boys, I should not have done that, There was a bit brain fade," he said.
Kohli on his part had said, "We have been inconsistent with the DRS but we take our decisions on the field, we don't ask for confirmation from the dressing room. I have seen it twice while batting. I have seen their players looking upstairs (dressing room). I told the umpires, this had to stop. I don't want to mention the word but it falls in that bracket. I would never do something like that on the cricket field."