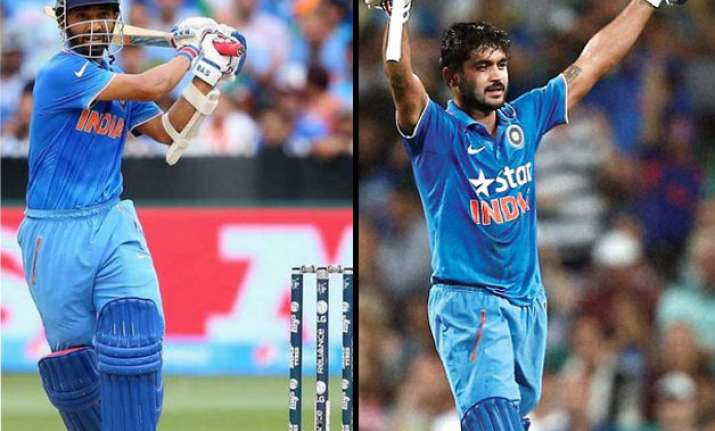 Mumbai: Left-handed batsman Yuvraj Singh sustained an ankle injury in the knock-out berth clash against Australia last Sunday. This has opened doors for Ajinkya Rahane and Manish Pandey to replace Yuvraj (in case he doesn't recover from his injury) in the World T20 semi-final match against West Indies coming Thursday. 
During the match against Australia, Yuvraj was hit on the hips by a short-pitch delivery of Nathan Coulter-Nile. Trying to run for the leg-bye, Yuvraj rolled up his ankle that caused him utter pain.  
The question now arises as to which one of the two will prove to be a fruitful replacement for the Indian team in the semi-final clash against the Caribbean. 
In terms of experience, Rahane has played 22 tests, 67 ODIs and 17 T20Is for the Indian team, whereas Manish Pandey has played just 4 ODIs and 2 T20Is. 
On the other hand, Manish Pandey is a hard-hitter and has enough experience of playing in the Indian Premier League. In fact, he is the first Indian player to hit a century in IPL (114 from 73 balls against Deccan Chargers in IPL 2009). 
Ajinkya Rahane has also showed some phenomenal performances against top-seed teams like Australia, Pakistan and Sri Lanka in both ODIs and T20Is.  However, his performance in the last five T20Is he played (11, 7, 0, 22 and 25) may go against him. 
Indications are that there is a high probability of Manish Pandey being zeroed in as a replacement of Yuvraj Singh, in case he is unable to recover from his injury before the semi-final match against West Indies. 
It will be interesting to see which one of the two will be chosen by the selectors for the India-West Indies World T20 semi-final which will played at Wankhede Stadium, Mumbai on March 31.