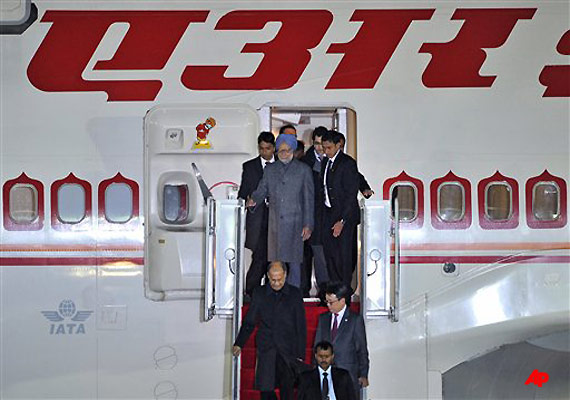 Seoul, Mar 24: Prime Minister Manmohan Singh today arrived here on a four-day visit to South Korea to attend the Nuclear Security Summit during which he is expected to unveil steps conceived by India to tackle challenges of nuclear terrorism.
South Korea's Vice Foreign Minister Kim Sung-han received the PM at the Seoul air force base. Indian Ambassdor Vishnu Prakash was also present.
Earlier in New Delhi, Singh said he would underline India's continuing support to a world free from nuclear weapons.
The aim of the summit is to focus attention of countries with considerable nuclear capabilities on the threat posed by nuclear terrorism.
"This remains a continuing concern," Singh said in a pre-departure statement.
The Summit is expected to be attended by 45 heads of state or governments, including US President Barack Obama, Russian President Dmitry Medvedev and Chinese President Hu Jintao.
Pakistan Prime Minister Yousuf Raza Gilani is also travelling to Seoul and reports from Islamabad said he was likely to meet Singh on the sidelines of Summit.  
Leaders of Australia, Japan, Indonesia, France, the UN and the EU, will also be at the Summit along with Deputy Prime Ministers or Foreign Ministers of 13 countries.  
Pointing out that India is expanding its nuclear power programme to diversify its energy mix and enhance energy security, Singh said that in order to retain public support for harnessing the benefits of nuclear energy, "we must be able to assure them of the highest levels of nuclear security and safety."
This, he said, is "even more important" after the Fukushima accident in Japan last year.