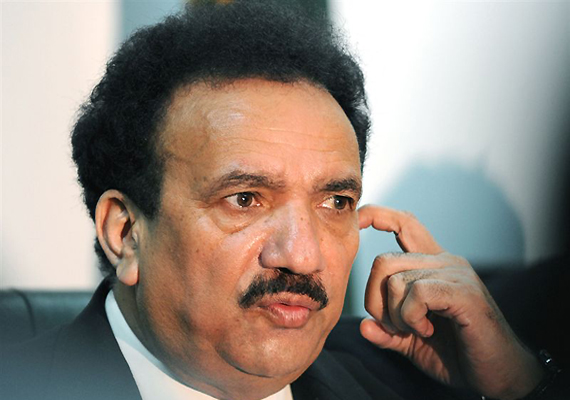 Islamabad, Mar 8: Pakistan authorities have filed cases against Osama bin Laden's three widows for illegally entering and living in Pakistan and are being held along with his children at a house in the federal capital, Interior Minister Rehman Malik said today.

"The Federal Investigation Agency and legal experts decided that action should be taken against them according to the law.

"A case has been registered according to Pakistani laws.  They have been produced in court and they are now in judicial remand," Malik said during an interaction with journalists here this afternoon.

The women and children were "being kept in a proper legal manner".

Malik declined to give details about the slain Al-Qaeda chief's family members, including the number of children. The widows were charged under the Foreigners Act and Pakistan Penal Code for illegally entering and living in the country and their case would be determined by the court, he said.

Bin Laden was killed by US special forces during a raid in the garrison town of Abbottabad on May 2 last year.  One of bin Laden's sons, two al-Qaeda couriers and a woman were also killed in the raid that deeply embarrassed Pakistan's security establishment.

Malik said the widows and children were being held in a five-bedroom house.

"The dignity of the women should be maintained. Keeping this in mind, they have been kept in a proper house which has been declared a sub-jail," he said.

The FIA had registered the case against the women, who were produced before a judicial magistrate.  The family members were shifted to the house three days ago, Malik said.

"They can hire a lawyer and they have full liberty to go to the court and defend themselves," he said. No cases were registered against the minor children who were free to leave the country, Malik said.

"The children can leave (Pakistan) if they wish but it depends on whether their mother will allow them to leave," he said.

Malik said he had learnt from news reports that bin Laden's brother-in-law was in Pakistan. "We have not stopped him and others relatives have the right to come to Pakistan," he said.

Pakistani authorities razed bin Laden's compound, located a short distance from the Pakistan Military Academy, last month as it had become a security concern because hundreds of people were visiting it every day.

However, authorities had not decided till recently on the action to be taken against his family. The widows and children were in the custody of intelligence agencies since May last year.  Saudi authorities have reportedly refused to accept a Saudi widow of bin Laden.