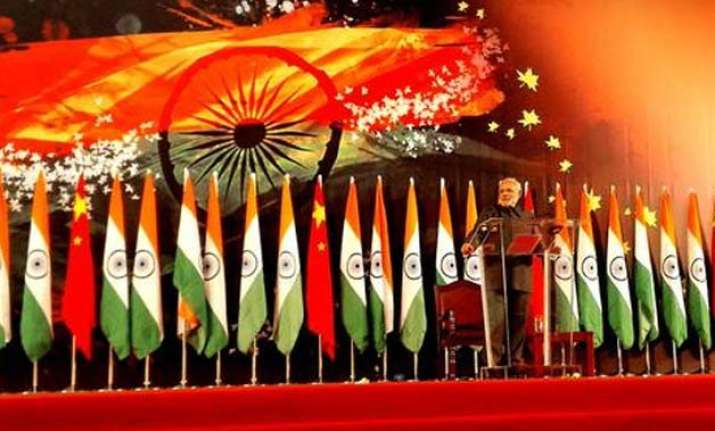 Prime Minister Narendra Modi today arrived here on his historic visit to Mongolia to hold talks with the country's leadership to bolster economic and trade cooperation, including in transport, highways and energy sectors.
The Prime Minister's two-day visit is taking place in the backdrop of celebrations of the 25th year of democracy and 60 years of diplomatic relations between India and Mongolia.  
On the second leg of his three-nation tour, Modi will meet Mongolian President Tsakhiagiin Elbegdorj to strengthen bilateral cooperation in diverse areas like shipping and logistics, transport, highways and electric power development in new energy industries.
Modi's visit, the first-ever to this country by an Indian Prime Minister, will also see the two sides inking a Double Taxation Avoidance Convention.
Prime Minister Narendra Modi on Saturday left here for Mongolia, on the second leg of his three-nation tour. It is the first visit by an Indian prime minister.
During his day-long visit in Mongolia on Sunday, Modi will present a sapling of the Bodhi tree to the chief abbot of the Gandan Monastery in Ulan Bator. He will meet Mongolian Prime Minister Chimed Saikhanbileg for talks after which several agreements are to be inked.
He will address the Mongolian parliament, which will be opened on a holiday in a special gesture. Modi will also meet the speaker.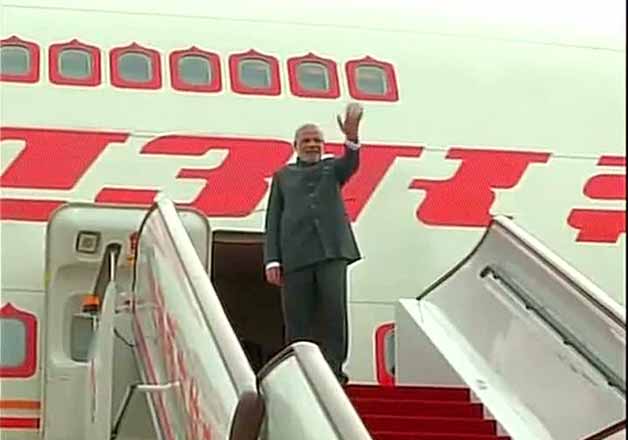 * PM Narendra Modi's portrait auctioned for charity in Shanghai, raised 2 lakh 50 thousand dollar.
* PM Modi waves at the audience after his speech at the Indian Community reception hosted for him in Shanghai: Modi
* 2016 is the year of China coming to India. Just like 2015 was the year of India visiting China: PM Modi
* The best part of my visit were the meetings I had with the youth, at two different functions: PM Modi
* Every moment of my time is for the 125 crore people of India: PM
* People trust me more because this is the 1st year of a full majority government, and we have done a lot of work: PM Modi
* Global warming is a situation created by humans, and humans hold the power to fight it. We just have to start loving the nature again: PM
* World is our family, we're all brothers. Languages may be different, the eyes, the nose and the complexion too may be different...: PM Modi
* Vasudhaiva Kutumbakam, "the world is one family". And India knows it: PM Modi
* There is no part of the world not affected by terrorism. We who follow "Vasudhaiva Kutumbakam" hold the strength to fight terrorism: PM
* The world is watching as India and China together are standing up to give a new hope to the world: PM
* Times have changed. Therefore China and India together hold the potential to help the world with the problems it faces: PM
* The respect that you have given me, it wasnt for me but for the 125 crore people of India: PM Modi
* It seems there is a mini-India right here in front of me, in Shanghai: PM Modi
* Mujhe aashirwaad dijiye. Mere se koi galti na ho jaye jisse mere desh ka nuksaan ho. Dono haath utha kay dijiye: PM
* I had not imagined that a year later on the same day (16th May) I would gte an opportunity like this: PM Modi
* Last year this time the world reverberated - dukh bhare din beetay re bhaiya: Modi
* I had also said I am going to learn whatever good is happening, as a student with an open mind: PM Modi
* Raajneta cheezen bhullane mai zyaada mahir rehte hai. Na mai bhoolna chahta hun, na bhulaane dena chahte hun: PM Modi
* Last year this time you could hear just one thing from all over..."dukh bhare din beetay re bhaiya": Modi
* Criticizing me was fine, doubting me was not: PM Modi
* They used to say "Who is Modi? What is he going to do in teh global world? Who knows him outside Gujarat?": Modi
* Last year this time you could hear just one thing from all over..."dukh bhare din beetay re bhaiya, sukh bhare din aayo re": PM Modi
* PM Modi: Last year this time you could hear just one thing from all over the world... Crowd: MODI! MODI!
* Today is May 16th 2015, last year this time the time difference bothered you because you had to wait to know poll results: Modi
* Today everyone in the world will be surprised that Indians in China are living in such a loving and peaceful manner: Modi
* PM Modi attends reception being held in his honour by Indian Community in Shanghai
* Slogans of "Modi Modi" raised at Fudan University after PM's speech
* 21st Century is Asia's century. India and China should work together to encourage ppl to lIve life dedicated to human welfare: PM Modi
* The world is suffering from Global Warming and Terrorism, Gandhian ideals have the solution to these problems: PM Modi
* Modi: Today World is facing two major problems - terrorism and global warming
* Gandhian philosophy can help us in the fight against terrorism and deal with climate change. PM
* Today yet again China has opened a doorway to philosophies of Gandhi, which I consider a landmark event: PM
* It is easy to open doorways for the economy and tourism, but to open doorway for knowledge takes inner strength: Modi
* Today is historic. I have joined a very 'Pavitra' occasion here:Modi
*There are very few political leaders in the world who get the fortune of meeting students from Universities outside their 
  country: PM Modi
* PM Modi is presently addressing students of Fudan University
* PM Narendra Modi launches Centre for Gandhian & Indian Studies at Fudan University
* PM Modi meeting Shanghai Party Secretary Han Zheng
* 21 Business Agreements signed between India and China worth USD 22 billion at India-China Business Forum
* Prime Minister Narendra Modi concludes his speech
* Harmonious partnership between India-China is essential for economic development and political stability of the continent: PM
* Let us work together with mutual interest for development of our two great nations: PM
* India and Chinese has complimented each other in the past, it shall do so in the future too: PM Modi
* Indo-Chinese partnership should and will flourish. I expect very good outcome from this vist: PM
* Within a very short time we introduced GST bill in our Parliament. An all time high allocation has been made for roads: PM
* FDI is important, but it wont come without globally competitive business environment. We've removed complicated procedures, says PM Modi
* We also want to promote manufacturing in a big way particularly to create jobs for our youth who form 65% of our population: Modi
* Committed ourselves to creating a business environment. Once you decide to be in India we want to make you more and more comfortable: PM Modi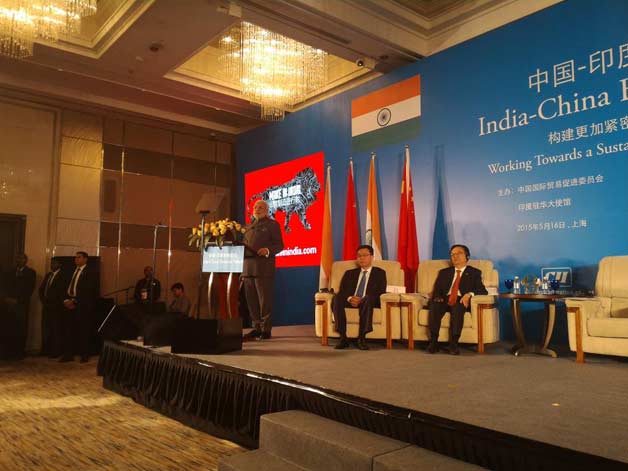 * We want to make things in India for which we launched "Make In India", we want to encourage R&D: Narendra Modi
* The scope and potential, the breadth and length of infrastructure and related developments is very huge in India: PM
* We are upgrading the existing airports, connecting them to regional places of economic importance: PM Modi
* We are modernizing our Railways and planning metros in 50 cities: Modi
* We are going to develop smart cities and mega industrial corridors, we have refined our FDI: PM
* As we helped each other growing spiritually, we have to help each other growing economically: PM
* India has always been a knowledge society. You have been an innovating society: PM Modi
* Our ideas had a role to play in Chinese innovations, thus we have a lot in common and can do a lot together: PM
* In recent times also the stream of knowledge is flowing across our borders: PM Modi
* I am sure our interaction with Business CEOs will be very beneficial. China and India are very old civilizations of world: PM Modi
* PM Narendra Modi speaking at India-China Business forum in Shanghai
* The 5F Formula - From Farm to Fibre to Fabric to Fashion to Foreign! PM Modi inviting Chinese CEO's to Make in India
* We have some big plans for India, We fully support Make in India: President of Xiaomi Lin Bin to PM
* Harbin Electric would like to bring more light to India, take advantage of Make in India: CEO Mr. Zou Lei to PM
* We want to focus on power sectors investments. We are planning to invest in Gujarat: Langye Sun (Director, Dalian City)
* We are full of hope about India, which offers a dynamic work force and huge market : Liang Wengen, Chairman SANY
* We are excited about India. We are excited about Make in India and Digital India: Jack Ma of Alibaba to PM Modi
* I have come to say to you Make in India: PM Modi tells Chinese CEO's
* Modi  meetS 22 CEOs of top Chinese business houses including Xiaomi President Lin Bin, Huawei Chairperson Ms Sun Yafang and Alibaba Chairman Jack Ma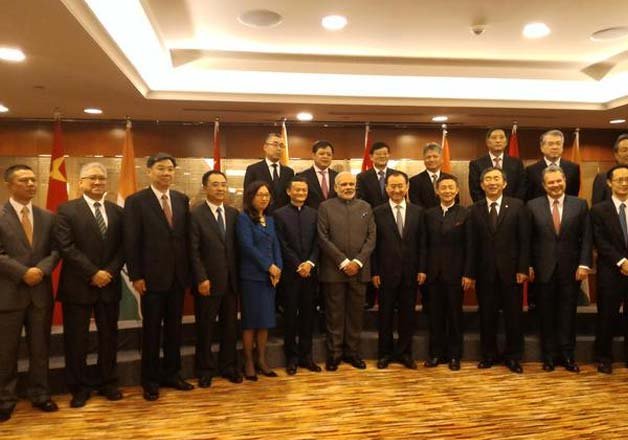 * More than 20 agreements signed between Indian and Chinese CEOs
* Modi meets CEOs of top Chinese companies. A number of agreements are expected to be signed.
Prime Minister Narendra Modi arrived in China's showpiece city Shanghai on Friday for the third and final leg of his three-day China visit that also took him to Xi'an and Beijing.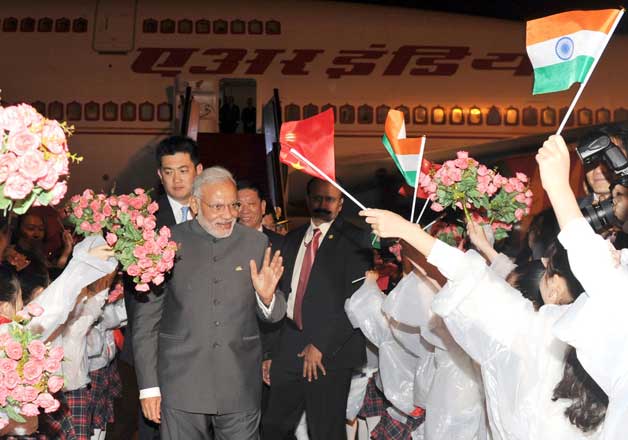 The Prime Minister will also address the Indian community here before leaving for Mongolia on the second-leg of his three-nation tour that will also take him to South Korea.
He arrived in Xi'an where he held summit-level talks with President Xi Jinping. He then moved to Beijing where he held wide-ranging parleys with his Chinese counterpart Li Keqiang on Friday.
Modi's Nixon-style pragmatism
State-run newspaper Global Times, in an article on Friday, likened the Prime Minister's visit to China with that of the ice-breaking visit by former US President Richard Nixon in 1972.
It said Modi has the capacity to resolve major contradictions between the two Asian giants.
"Modi is considered as a state leader with strategic insights. He may become a Nixon-style statesman because of his pragmatism and capacity to resolve major contradictions between China and India and to tackle the common challenges of development," the article on Global Times said.
The article titled "Modi's Nixonian pragmatism refreshes ties" was written by Ya Liu Zongy, assistant research fellow of Shanghai Institutes for International Studies.
Nixon's visit to China in 1972 had opened up US-China relations after which US investments and technology started flowing into the Communist nation, which opted for a widespread economic reforms.
Nixon's visit was considered an important step in formally normalising relations between the US and China. It marked the first time that a US president had visited the country. The visit ended 25 years of separation between the two sides.
The iconic selfie taken by Modi with Chinese Premier Li Keqiang during his current visit to China is being hailed by western media as one of the most "power-packed selfie in history".
The Wall Street Journal, in a news report titled 'Did Modi Just Take the Most Powerful Selfie in History,' said that the prime ministers of the world's two biggest countries "leaned on each other ...For what may be the most politically power-packed selfie in history."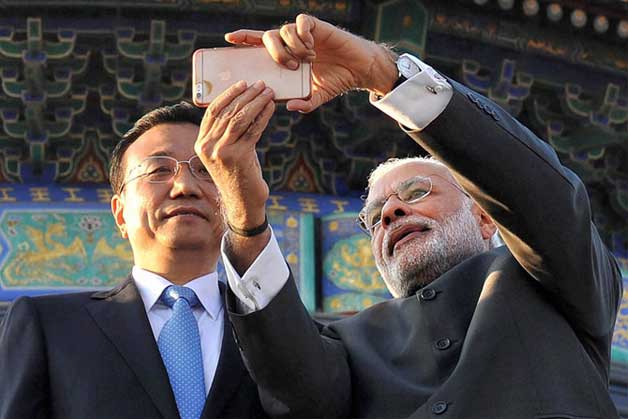 It said Modi pulled out a smartphone during his visit to Beijing's Temple of Heaven, "extended his arm and cozied up with Chinese premier Li Keqiang for the shot.
"That put two of the most powerful people in countries with a combined population of around 2.5 billion people-more than one-third of humanity- in the same frame with no official photographer involved," the WSJ report said.
An article in Forbes said that the selfie, which garnered 2,200 shares within two hours of Modi posting it on his Twitter account, is being "billed the selfie of the world's two mightiest".
"Modi and Li drive economic policy in their respective countries, two of the world's fastest-growing large economies," the Forbes article said.
The Indian Prime Minister is one of the world's most followed on Twitter with 12.3 million followers.