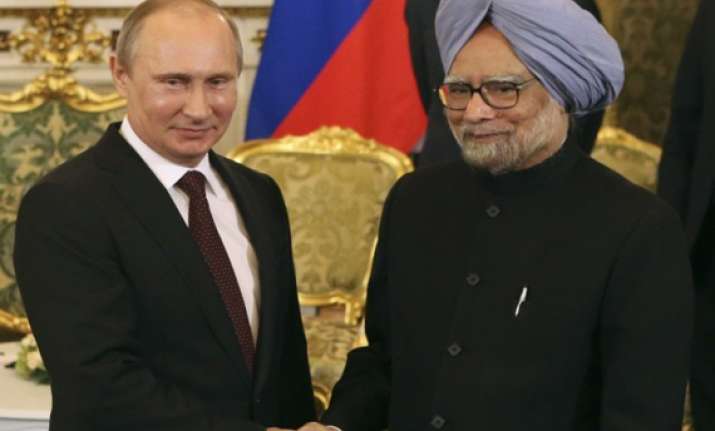 Moscow: India and Russia Monday marked a very special phase in their close ties as the first Russian-built reactor in Tamil Nadu's Kudankulam was connected to the electricity grid in south India and poised to produce electricity while a commercial deal for the third and fourth reactors are near complete.
As Indian Prime Minister Manmohan Singh and Russian President Vladimir Putin met in the Russian capital where the temperatures are near freezing, both stressed on the closeness of their ties in all spheres, including cooperation in economic, energy, defence, counter-terrorism and people-to-people contact.
Manmohan Singh and Putin held restricted level talks for over four hours in the Green Drawing Room of the Grand Kremlin Palace, with their close aides, who included from the Indian side Foreign Secretary Sujatha Singh, National Security Advisor Shivshankar Menon, Indian Ambassador Ajai Malhotra and senior officials of the Prime Minister's Office.
Putin, addressing reporters after the delegation level talks and inking of five agreements later, said he was happy that the first reactor had gone critical and was poised to be connected to the electricity grid "in a few hours", while the second one if to go critical in early 2014.