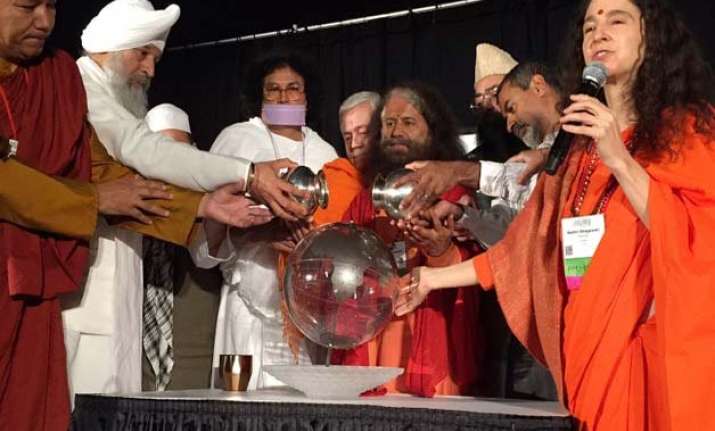 Salt Lake City(USA): Over a hundred years after Swami Vivekananda made history at the Parliament of the World Religions, the spiritual leaders of India travelled to Salt Lake City, USA for the world's sixth Parliament of the World's Religions, where they took a resounding stand for a Swachh Bharat and to help save our world's dwindling water resources.  
Approximately 10,000 leaders from 50 religious traditions and 80 nations are present at the historic event taking place from the 15-19 October at the Salt Palace Convention Center.
Globally, more people perish each year from lack of clean, safe, sufficient water, hygiene and sanitation than from all forms of violence combined.
Every day, some 1,800 children under the age of five die due to the lack of clean and healthy Water, Sanitation and Hygiene (WASH), with approximately1200-1600 deaths in India.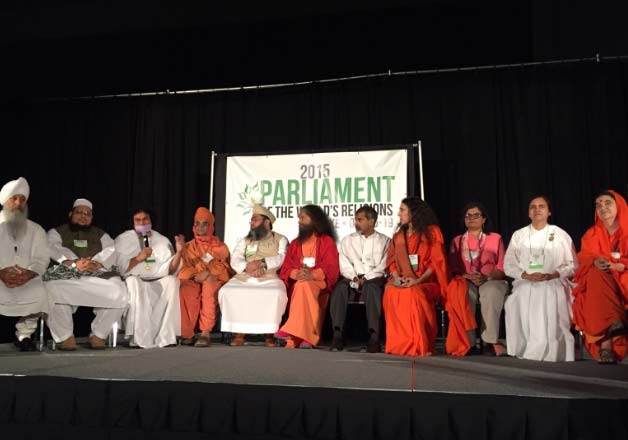 Much of this is due to the fact that some 600 million people in India still have no access to toilets, which results in the spread of disease as water resources and open spaces become contaminated.
"Where there are no toilets, there is more disease. We can no longer sit idly as our children die unnecessary and tragic deaths for the lack of toilets.  That is why India's faith leaders have flown to the other side of the world, to make a stand for great and lasting change," Swami Chidanand Saraswati, President of Parmarth Niketan said.
In the United States, where the Parliament is being held, the pressing issue of water scarcity took center stage this summer as California dealt with historic drought.
Even worse conditions are predicted for Northern India, the world's most water-extracted region, where some 114 million people and their farms are expected to face extreme water shortages within coming years.
"All of India's mosques, temples, churches and gurudwaras must join forces in the Global Interfaith WASH Alliance's WASH Revolution. On behalf of almost 500, 000 imams of India, we stand together with the Global Interfaith WASH Alliance in this crucial measure," Imam Umar Ilyasi, President of All India Imam  Organisation added.
The appeal for making a 'Swachh Bharat' was jointly issued by Swami Chidanand Saraswati, Imam Umer Ilyasi, Madhavpriyadas Swami, Bhaisahib Sukhbir Singh, Bhaisahib Satpal Khalsa, Maulana Luqman Tarapuri-a-Deobandi Alim, Acharya Dr. Lokesh Muni, Bhikku Sanghasena and Sadhvi Bhagawati Saraswati.
(Bhavya Srivastava is a freelance journalist and he is presently in USA to cover 2015 Parliament of the World Religions)