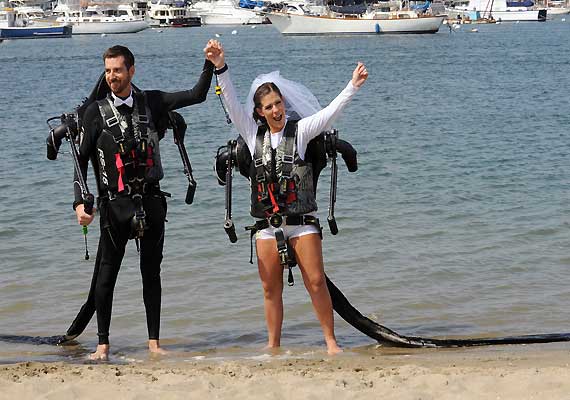 Newport Beach, Aug 24: A Californian couple decided to take their nuptials to new heights when they got married on Thursday in Newport Beach - wearing jetpacks.
Amanda Volf had more than the usual bride's jitters on her wedding day.
As well as saying her vows she had to steer the jetpack without tipping herself headfirst into the sea.
As a former wedding planner, the 25-year-old from Grand Rapids, Michigan wanted to make a different kind of splash on her special day.
So when an online adventure travel website offered a water jetpack wedding she and her husband-to-be, Grant Engler, said "Why not?"
He wore a black wetsuit with a white bow tie. She wore a white rash vest, white board shorts, a short veil and waterproof makeup.
The contraption on her back that propelled her across the water cost 90-thousand US dollars.
"This is amazing. It still doesn't feel real. It's so surreal," she said as she waited to jetpack across the water, meet her father on the beach and exchange vows on the sand.
Before the ceremony Volf she wasn't the kind of girl who grew up dreaming of her wedding day, but that if she did, the stunt would've been exactly what she imagined.
"I never really dreamed of my wedding, but if I did, I think this would be it," she said.
In their vows the couple promised to love each other always, travel the world together and embark on lots of similar exciting adventures.
Grandparents, parents, friends and family came from Michigan and beyond, eager to see the jetpack bride and groom.
Besides the jetpacks, it was a classic beach wedding with guests in summer casual attire and grandparents in folding beach chairs.
The bride and groom practised steering the jetpacks for a couple of hours on the morning of their wedding day.
"They're a blast to use, they're easy to learn, and you look really cool when you're on them," said the groom, Grant Engler.
Everything went off without a hitch - besides a kayaker who capsized in the middle of the newlyweds' first "water dance".