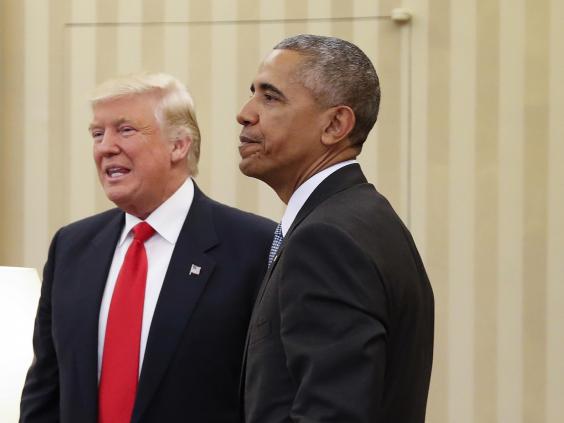 Outgoing US president Barack Obama has expressed hope that Donald Trump will recognise that campaigning is different from governing the country and asserted that it will be up to the President-elect to set up a team that will serve him well and reflect his policies
"The people have spoken. Donald Trump will be the next President, the 45th President of the United States. And it will be up to him to set up a team that he thinks will serve him well and reflect his policies. And those who didn't vote for him have to recognise that that's how democracy works. That's how this system operates," Obama said yesterday.
"When I won, there were a number of people who didn't like me and didn't like what I stood for. And I think that whenever you've got an incoming President of the other side, particularly in a bitter election like this, it takes a while for people to reconcile themselves with that new reality," he told reporters at a White House when asked about some of the controversial appointments being made by 70-year-old Trump.
Given that Trump is now trying to balance what he said in the campaign and the commitments he made to his supporters with working with those who disagreed with him, and members of Congress, and reaching out to constituencies that didn't vote for him, it's important for us to let him make his decisions, Obama asserted.
The American people will judge over the course of the next couple of years whether they like what they see, and whether these are the kinds of policies and this is the direction that they want to see the country go in, he said.
"My advice to the President-elect when we had our discussions was that campaigning is different from governing. I think he recognises that. I think he's sincere in wanting to be a successful President and moving this country forward," Obama said.
"I don't think any President ever comes in saying to themselves, I want to figure out how to make people angry or alienate half the country. I think he's going to try as best he can to make sure that he delivers, not only for the people who voted for him, but for the people at large. The good thing is, is that there are going to be elections coming up, so there's a built-in incentive for him to try to do that," he said.
Noting that it has only been six days when he won the election, Obama said it will be important for Trump to have the room to staff up, to figure out what his priorities are, to be able to distinguish between what he was campaigning on and what is practical, what he can actually achieve.
"There are certain things that make for good sound bites but don't translate into good policy. That's something that he and his team, I think, will wrestle with, in the same way that every President wrestles with," he said.
PTI inputs